Exclusive Offerings From Bank of America for Defenders of Wildlife Enthusiasts
Bank of America® Cash Rewards Visa® credit card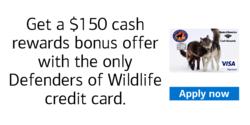 Help save wildlife with the purchases you make on your Bank of America® Cash Rewards Visa® credit card for Defenders of Wildlife and earn more cash back for the things you buy most.
Click here for information about rates, fees, other costs and benefits associated with the use of this card or to apply today.
This credit card program is issued and administered by Bank of America, N.A.
Bank of America Deposit Program
Bank of America will contribute $10 to Defenders of Wildlife for each new qualifying checking account† opened, subject to a minimum balance requirement.
† Defenders of Wildlife banking is available with eligible checking accounts.
Please review the Personal Schedule of Fees, also available at your local financial center.
GET INSTANT ALERTS & UPDATES
Get Instant Alerts & Updates
Enter email address
Enter mobile number
Latest Updates
February 26, 2019 | 10.29 AM
January 31, 2019 | 11.23 AM