Idaho's War on Wolves Escalates
State's aggressive tactics undermine species' restoration
Idaho holds a privileged place in the annals of wolf history. Here, in The Frank Church-River of No Return Wilderness nearly 20 years ago, the first reintroduced wolves in America leaped from portable kennels onto their historical home turf, returned by a federal government coming to terms with its misguided policy to hunt, poison and trap an ecologically crucial species to near-extinction.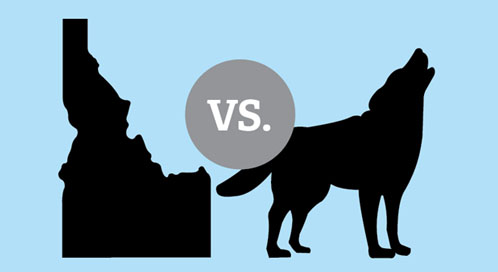 Now, with federal wolf protection lifted in 2011 and wolf management in the hands of the state, many concerned citizens and scientists view Idaho as the poster child for a particularly egregious anti-wolf agenda—one that is absent scientific merit, based in irrational loathing and aimed toward wolf persecution, not management.
"While we are disappointed with many states' wolf plans, Idaho tops the list as the state with the worst wolf policy," says Don Barry, Defenders' senior vice president of conservation programs. "The state has rapidly become the most hostile state in the West to wolves and wolf recovery and has adopted a series of extreme anti-wolf measures designed to seriously undermine wolf recovery and sustainability, and to drive the wolf population down to the absolute minimum."
With only about 500 to 600 wolves left in Idaho, state officials are pushing to further drop the population to 150, with the majority of state legislators sponsoring Gov. Butch Otter's legislation that proposes to spend $2 million of Idaho taxpayers' money to kill wolves—as much as $4,500 per wolf. (In comparison, the state spends $6,000 a year on each schoolchild.)
In 2009, when wolves were still federally protected, Idaho's wolf population peaked at about 1,000 wolves—still a low number compared to other normal healthy predator populations. The state—which also supports an estimated 3,000 mountain lions, 20,000 black bears, 45,000 coyotes and hundreds of thousands of elk and deer—halved the wolf population in a few short years. 
"It's clear that the state of Idaho isn't interested in sustainable wolf recovery," says Suzanne Stone, Defenders' Rocky Mountain representative. "Instead, it's focused on doing anything it can to kill as many wolves as possible. If state politicians truly want to address livestock conflicts, they would adopt the most effective method—coexistence—which is the only sustainable, long-term solution."
Defenders' showcase Wood River wolf project in Blaine County—where wolf habitat in the Sawtooth National Forest overlaps with sheep grazing on public lands—has effectively proved for the last six years that flagged fencing (called fladry), electrified flagged fencing (turbo-fladry), guard dogs and range riders are more effective at keeping wolves away than lethal control. "Despite being a region with the highest concentrations of wolves and livestock sharing the landscape, it has the lowest loss rate of livestock and wolves in the state," says Stone. In those six years, wolves killed fewer than 25 sheep, and no wolves had to be killed in the project area. "Wolves were killed outside the project area, however, in places where we had hoped to work but were not allowed in," she adds.
Potential livestock conflict is not the state's only issue with wolves. In an attempt to inflate an already near record-high elk population for commercial outfitters and hunters, the Idaho Department of Fish and Game recently introduced a plan to kill 60 percent of the wolves in the Middle Fork Zone, which includes the Frank Church-River of No Return Wilderness, the largest forested wilderness in the lower 48 states—and the federal land where wolves got their second chance.
The plan came just weeks after the state hired a bounty hunter who trapped and gunned down nine wolves in an effort to exterminate the resident Golden Creek and Monumental Creek wolf packs. State officials halted the program following legal pressure from Defenders and other conservation partners. The agency also agreed to prevent trapping in the area through the end of June.
"Idaho contains the largest forested wilderness area in the lower 48 states, and the Frank Church River wilderness is federal land that belongs to all Americans—not just trophy hunters," says Stone. "It is one of our country's last wild and untouched spaces. If America's wolves can't safely roam here, where can they?"  
More Articles from Spring 2014
You may also be interested in:
For all its unique beauty, the Arctic Refuge is under assault. The oil industry and its political allies continue to launch attacks to open this national treasure to destructive oil and gas drilling, while climate change threatens to disrupt its habitats faster than wildlife can adapt.
Bears die when they get into trouble with people's garbage, livestock, when they are hit by cars and trains or illegally killed. By preventing these conflicts we can keep bears alive and on the road to recovery.
Wanted: candidates for Congress. Essential duties include protecting our nation's natural resources and wildlife.
GET INSTANT ALERTS & UPDATES
Get Instant Alerts & Updates
Enter email address
Enter mobile number