The Scarlet Macaw Returns to the Gulf of Mexico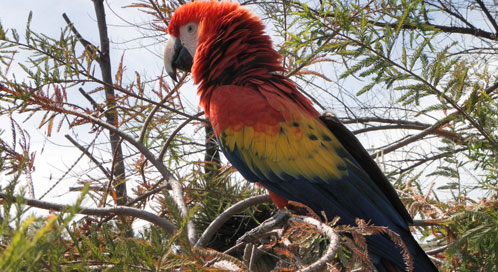 The scarlet macaw has returned to the rainforests of the Gulf of Mexico after being wiped out half a century ago. In collaboration with our partners on the ground, Defenders was involved in the effort to release 27 scarlet macaws into the wild in the Biosphere Reserve of Los Tuxtlas in southern Veracruz. This release was the first step of a project that plans to create the largest wild population of these birds in Mexico.
You may also be interested in:
In the back room, endangered pangolins—scaly, armored mammals native to Southeast Asia and parts of Africa—were being "processed." The armadillo-like animals were skinned; their valuable scales removed; organs, blood and fetuses separated out; and the remaining meat boiled.
Once every three years, representatives gather from the 175 nations that have signed on to the Convention on International Trade in Endangered Species (CITES).
Good news for polar bears; Farewell to finning
GET INSTANT ALERTS & UPDATES
Get Instant Alerts & Updates
Enter email address
Enter mobile number
Latest Updates
October 6, 2016 | 10.56 AM
September 26, 2016 | 10.14 AM