Standing Up For Wolves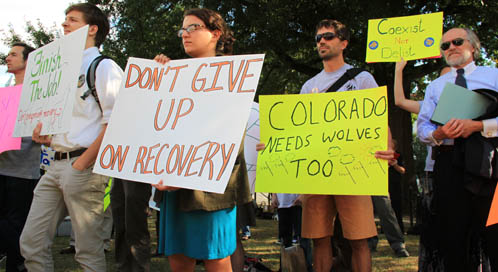 The U.S. Fish & Wildlife Service held several public hearings across the country on their proposal to strip Endangered Species Act protections from most gray wolves in the U.S. At each one, Defenders was there to rally with wolf supporters, provide information on the proposal and on wolf recovery, and train advocates on how to testify at public hearings.
You may also be interested in:
April 2015 - In less than 40 years, this population of sea turtles has gone from nearly vanishing to laying thousands of successful nests on our beaches every year.
During Wolf Awareness Week, we celebrate the vital role wolves play in the ecosystem, combat the misinformation that so often surrounds them, and share what you can do to help wolves survive.
September 2014 - Federal protections for gray wolves in Wyoming were reinstated after a judge invalidated the delisting of the species.
GET INSTANT ALERTS & UPDATES
Get Instant Alerts & Updates
Enter email address
Enter mobile number