Standing Up For Wolves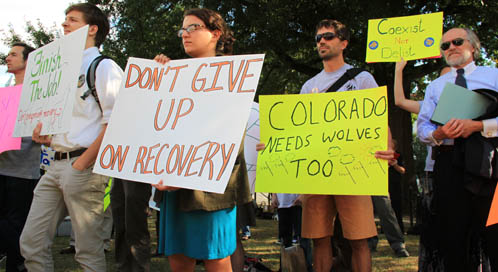 The U.S. Fish & Wildlife Service held several public hearings across the country on their proposal to strip Endangered Species Act protections from most gray wolves in the U.S. At each one, Defenders was there to rally with wolf supporters, provide information on the proposal and on wolf recovery, and train advocates on how to testify at public hearings.
You may also be interested in:
A new poison is on the menu in Great Plains states, where ranchers claim that burrowing, grass-eating prairie dogs degrade pasture land.
The War on Wolves Continues; New Rules Rule; A Future with Bison
The wood stork rebounds; hope for fishers in the far west; the numbers on Yellowstone wolves; and more.
GET INSTANT ALERTS & UPDATES
Get Instant Alerts & Updates
Enter email address
Enter mobile number