Leaving the parking lot of the Wyoming Game and Fish office in Laramie, where we just organized 130 live-animal traps in the beds of our trucks, I am overcome with excitement about the project ahead. I can't stop smiling. 
We are headed to Shirley Basin, Wyoming to trap swift foxes for the start of a five-year reintroduction program led by the Assiniboine and Gros Ventre tribes of Fort Belknap Reservation in Montana. Fort Belknap has partnered with Defenders, the Smithsonian Conservation Biology Institute and World Wildlife Fund to help the swift fox return to these tribal lands. 
Emblematic of the plains, the swift fox blends in with the prairie with tan-colored fur, and a long, brown- and-black tail. Swift foxes are the smallest wild canids in North America, known for being curious and incredibly cute. Roughly the size of a house cat, small and light even the adults rarely weigh more than five pounds. Although the swift fox is not listed under the Endangered Species Act, it has yet to fully recover throughout its historical range. From the late 1800s to early 1900s, their numbers plummeted, populations down to only 10 percent, due to a combination of factors. The swift fox was a "nontarget species" with the population suffering high mortality due to poisoning aimed at wolves and coyotes. They also lost their habitat due to the conversion of grasslands to agriculture, and because of trapping for their fur. They were completely eliminated from the northern portion of their historic range in Montana, the Dakotas, and Canada.
Today, thanks to collaborative efforts, the swift fox is making a comeback at places such as the Fort Belknap Indian Reservation, where it has long been missed. Fort Belknap is a model in native plains wildlife having also restored wild buffalo and endangered black-footed ferrets to the ecosystem. 
Image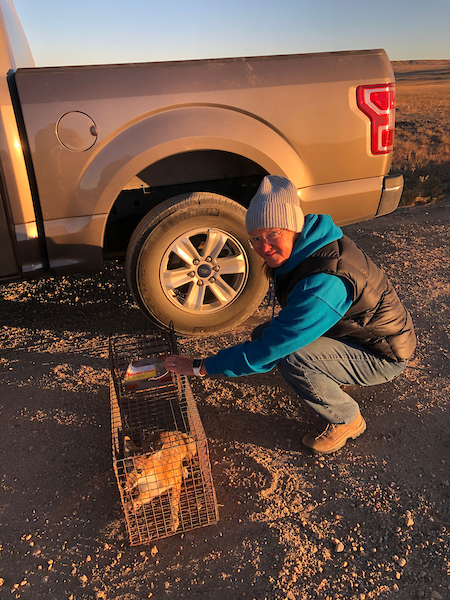 Image Credit
Hila Shamon/Smithsonian Conservation Biology Institute
Image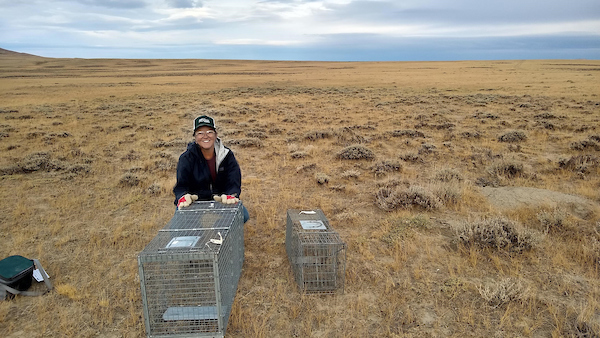 Image Credit
Hila Shamon/Smithsonian Conservation Biology Institute
Image
Image Credit
Hila Shamon/Smithsonian Conservation Biology Institute
Today's assignment, once we get to Shirley Basin after about an hour's drive north, is to cover a lot of prairie setting up and baiting our traps. We have to be strategic and open them up at dusk, just in time for the nocturnal predator to come out and roam the prairie looking for food. 
About two hours to go until dusk, we spend a considerable amount of time determining the location of these first traps, and then we're laying them out with bait. We use bacon and sardines, to make them real stinky. We arrive to our plot, showing on my iPhone, a GPS preset map the Smithsonian lead researcher, Hila Shamon, has created for the trapping teams. I was fortunate to pair up with her. Hila has her PhD in ecology and has trapped other species such as jackals in Israel, where she is from. We are also fortunate to have Jess Alexander of Little Dog Wildlife as our lead trapper, who knows the swift fox well. 
With our trucks parked, and wearing our personal protection equipment (PPE), we grab two traps each and walk around looking for a swift fox den, which we soon discover hidden within islands of sagebrush. We trap in the fall after the young have already dispersed. Swift fox kits are born in May and usually stay with their mother for six to seven months. The individuals we trap will be used to restore a population at Fort Belknap Reservation, a few hundred miles north, but with similar habitat. 
In places like the Shirley Basin, where you can hear coyotes calling out in the distance, see pronghorn running along a low ridge, and take stock of the teeming wildlife, it's clear that all the animals fit together with many symbiotic relationships. These grasslands are home to predator and prey, and with keystone species such as the prairie dog clipping the grasses just right and creating burrows that swift fox and black-footed ferret also like to use. This project, too, wouldn't exist without collaboration from the government of Fort Belknap, with the Tribal Council passing a swift fox recovery resolution, to the Wyoming Game and Fish Department research and approval and the partners on the ground—everyone doing their part to restore the prairie species to the ecosystem is crucial. Fort Belknap has a long history of working on ecosystem restoration and wildlife conservation.  Defenders is a major partner of Fort Belknap for their buffalo and black-footed ferret programs, and now for their swift fox initiative. 
I call out the number of the trap I just set to Hila who is "GPSing" every trap to make sure we don't miss one in the morning. Trapping involves early wake up calls at 4 a.m., so we arrive on the trap site at dawn. We don't want the foxes to be in the traps for too long. We set up a few traps next to a snow fence the night before, Hila saying "You have to think like a swift fox," – they might want some protection. Those are the traps we check first. Sure enough, her theory proves correct as we jump out of our trucks, slowly walking toward the first trap, we see it moving. 
"Yeah, we've got fox," I say in a whisper. I cover the trap with a towel to keep the animal calm. Hila takes a GPS reading and records the trap number, number 67. The second trap we check also has a fox. "They must be related," I say. We return to the truck with the two traps and set them carefully in the back seat. "Looks like we caught two brothers, kits," Hila says. One of them makes a low growl, and then as I drive down the dirt road, I notice he is asleep. Our rendezvous site is a Bureau of Land Management (BLM) sign, at the road where we all took off for our trap sites. Jess arrives next ready in her PPE to process the animals, figuring out their sex, assessing their health, and spraying them with flea spray. 
We caught five foxes in total that day, and one badger. Jess said he was growling even as he ran away from the trap after its release. You never know what you'll get—skunks are the worst. Our goal is to capture 40 swift foxes in Wyoming for this first year and then trap more in Colorado and Kansas in years two and three. 
At the end of this first week, we had a total of 27 swift foxes, all caught on BLM lands of the Shirley Basin. We housed the foxes at the state's wildlife research center in Sybille Canyon, about an hour's drive east of the trap sites. There, the foxes underwent health checks and were affixed with GPS radio collars that have a biodegradable screw so they will fall off in about a year. With the generous support of our members and supporters, Defenders was able to provide funding for the purchase of the high-tech monitoring collars, which Fort Belknap will use to determine the animals' movements and study where they are establishing their dens. 
The foxes were all loaded in the trucks to make the drive north up to Fort Belknap in Montana. The tribes will have a special ceremony to honor the swift fox returning to their lands and people. It is such an honor for Defenders to be part of the swift fox restoration program on behalf of the Assiniboine and Gros Ventre tribes. Looking into the eyes of a swift fox will forever be on etched in my mind. 
Author(s)
Image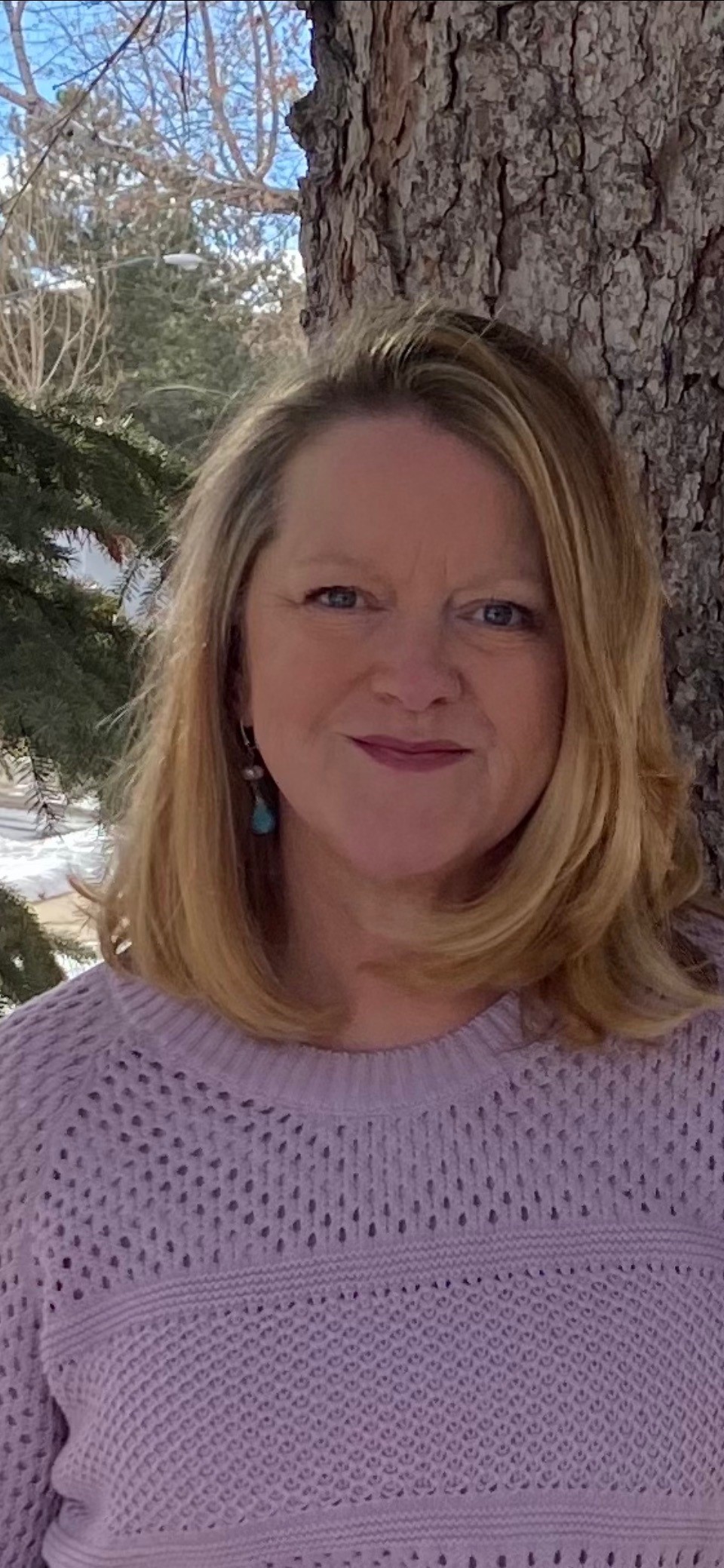 Chamois Andersen is responsible for advancing the Defenders' conservation programs for the American bison and endangered black-footed ferret in the Rocky Mountains and Great Plains.
Image