Alaska is an extraordinary place to live, work and recreate for many reason, including that every day in Alaska's summer and fall is a "Bear-Aware" and "Bear Safety" day.  Those who live in Alaska live among bears, be they black, brown or polar bears, and Defenders is working hard with partners to ensure that more people take steps to better coexist with these iconic predators.  Our aim is to reduce human-bear conflicts that often result in dead bears, and we are using a number of strategies to reduce conflicts, with the hope that Alaskans ultimately will better coexist with bears.
Last year alone in Anchorage - Alaska's largest city - a total of 41 bears were killed in defense of life and property, which were among the highest totals ever recorded. Many of these kills could have been avoided with proper trash and food storage, and with the use of electric fences to keep bears away from attractants. Trash, food and livestock are among items that commonly attract bears. Defenders in Alaska is involved in Anchorage's Bear Safety Committee to coordinate with partners and share bear safety information with Anchorage residents, and we've initiated coexistence programs on the Kenai Peninsula in southcentral Alaska and in the Arctic.  
In Alaska's Arctic, loss of sea ice from climate change has meant that more endangered polar bears are spending longer periods of time on land, including near or in communities, such as Kaktovik in northeast Alaska.  Since 2010, Defenders has supported and provided food storage lockers for the community of Kaktovik, since traditional, underground ice houses are no longer dependable for food storage due to climate change.   The majority of polar bears in the Kaktovik area are part of the Southern Beaufort Sea population, which has dramatically declined, and is the most threatened of all polar bear populations in the world due to sea ice loss from climate change.
The Kenai Peninsula, in southcentral Alaska, has an isolated, at-risk brown bear population that has experienced significant habitat encroachment from housing and other developments and increased "defense-of-life-and property" kills.  Defenders is working with Kenai Peninsula communities and agency partners to ensure that bear-proof trash containers, educational signs and food storage lockers are in place, and we are encouraging property-owners to build electric fences around bear attractants, such as livestock.  This coming year, in partnership with Alaska Department of Fish and Game, Defenders is launching an electric fence subsidy program on the Kenai Peninsula, that is modeled after a similar and very successful Defenders program started in Montana.  
As part of our outreach and education for the electric fence subsidy program, Defenders worked with students from the University of Alaska, Anchorage, to build an electric fence model, which the students completed as part of a final project for a Conservation Biology class.  The students have written about their experience learning about electric fences and building the model below.
- Nicole
---
We are six students from the University of Alaska Anchorage (UAA) that recently finished our Spring 2019 semester. We were all in a conservation biology class together, and as a service-learning component for the course, we collaborated with Defenders of Wildlife, to build an interactive electric fence model for the public. We also wrote a brochure that includes steps on how to build an electric fence as well as detailing important safety information.
While there were several service-learning projects to choose from, this one stood out to us the most because we all wanted to learn more about bear safety in general, since we live in a state where bears are prevalent. Knowing how to build an electric fence is also valuable knowledge to have in order to protect property and limit unnecessary conflict between bears and people. For example, some members of our group chose this project to learn how to protect a chicken coop from would-be intruders! Having chickens is a great urban farming start, so this project helped us learn how to maintain chickens' safety by keeping bears from becoming habituated to human foods not found in the wild.  
The first steps we took to build the model was to research what is involved in building an electric fence. Though some of us have encountered pre-built electric fences before, none of us knew how to build an electric fence from scratch. After compiling and exchanging information, we created a list of essentials for an electric fence fit for an urban backyard and then created a second list of model items that we needed to represent the real materials needed to build an electric fence. 
Our model is intended to be helpful for presentations and could be used for outreach events. It is meant to be interactive, and being a small-scale version of an actual electric fence, it can help people visualize what they would need to build one of their own.
Electric fences are a great way to protect both property and wildlife. They are economical, easy to install, safe, reliable, and durable. Electric fencing delivers a short and safe, but memorable shock to a would-be intruder to create a psychological as well as a physical barrier, unlike barbed wire which can cause severe cuts and long-lasting pain. Animals remember and develop a respect for the fence, which results in less harm and fewer conflicts. While the fence might require some upkeep like any other piece of equipment, it lasts a lot longer than a traditional fence and stays in good condition because animals learn to stay away.
We all enjoyed the experience to work alongside Defenders of Wildlife during this project and some of our personal responses are as follows:
"I am very excited about the outcome of the model and this project. With less than two weeks to work on this project, it was a bit overwhelming to take on because I had no clue about how an electric fence worked. After research and educating myself on how electric fences are constructed and their benefits to human-bear coexistence, I became more comfortable with the idea. I had always been curious about electric fences and their usefulness, whether they were safe or just humans taking the easy way out. Learning more about the usefulness of electric fences is why I wanted to choose this project in the first place. My thoughts on electric fences have increased positively, and I hope to be able to educate and influence others on the safeguards of having an electric fence as we increasingly have interactions with bears throughout Alaska." -Kang Yang

"I was skeptical at first of getting the model successfully finished in our time frame of a couple weeks. But the model shows exactly how a bear fence should work to protect your crops or livestock. I personally have set up a small bear fence around our game meat while out hunting and it was cool to gain the knowledge of how larger scale ones are just as simple and highly effective. Because we share the earth with these animals, we need to respect them and try everything we can to make them non-dependent on us for food. Bear fences are a deterrent and they are a step toward keeping bears and other predators wild. We as humans can take extra steps like setting up fences or get bear proof trash cans. These are the ways we can help out and create less of an impact on wildlife, because it's better to deter wildlife then to have to take wildlife to defend your property. I loved the opportunity to work with this awesome group and Defenders of Wildlife to gain some knowledge and help with the education of the public to keep bears safe and wild." -Hunter Littlefield

"I think often times conservation can seem like such a broad topic and many people don't see how they can help as an individual in the big scheme of things. However, this project opened my eyes to ways in which individuals can have a big impact when multiple people and communities get involved. This 'backyard' solution can make a big difference in decreasing mortality of bears due to defense of life and property killings. Bears will be safer as they will not depend on humans for a food source. Likewise, humans and their property will be protected from bears who may be a little too curious. I am grateful to have been a part of this project to be able to help create a medium for education and outreach to the public." -Dani Owens

"I've always been fascinated by large predators, and I think conservation solutions that take into account the needs of both animals and humans are vital. In Alaska, views on bears in populated areas vary greatly. Some people see them as a nuisance, while others are thrilled at the chance to get a glimpse of an iconic animal so close to home. Regardless of personal views and experiences, we can all agree that keeping bears from becoming dependent on man-made food sources is good for all parties involved. I think this project has the potential to help shift people's perception of bears, and start taking more responsibility for protecting their own land and property without having to resort to killing bears. Hopefully, this change in mindset will lead to more Alaskans searching for ways to coexist with our local wildlife. The most surprising part of this project for me was discovering all the resources available to help people set up their own electric fences- it really is an attainable solution- and I hope our model helps show that."
-Kat Beaudin

"I moved to Alaska for school about a year ago and never received formal bear safety training. I used my involvement with this project as a medium to learn that information. I then provided that same information to other international students who were also in the same position as me. The other reason I was intrigued by this project came from my desire to present complex information in such a way that people from all walks of life can interpret it - building an interactive fence model did just that." -Yemi Knight

"Living in Alaska, it's extremely important to know how to coexist with wildlife. This project was an effective and interesting way to spread knowledge to the community. It was really neat to see an organization like Defenders of Wildlife create real solutions for local issues and provide the public with a way to take action." - Carmen Field
---
Since the University of Alaska, Anchorage Conservation Biology students built the electric fence model, Defenders has show-cased it during two bear-safety educational events this spring at the Alaska Zoo in Anchorage, and informed close to five hundred members of the public about bear attractants, coexistence and the benefits of electric fences.  We intend to reach many hundreds more in the coming year with our electric fence workshops.
Author(s)
Image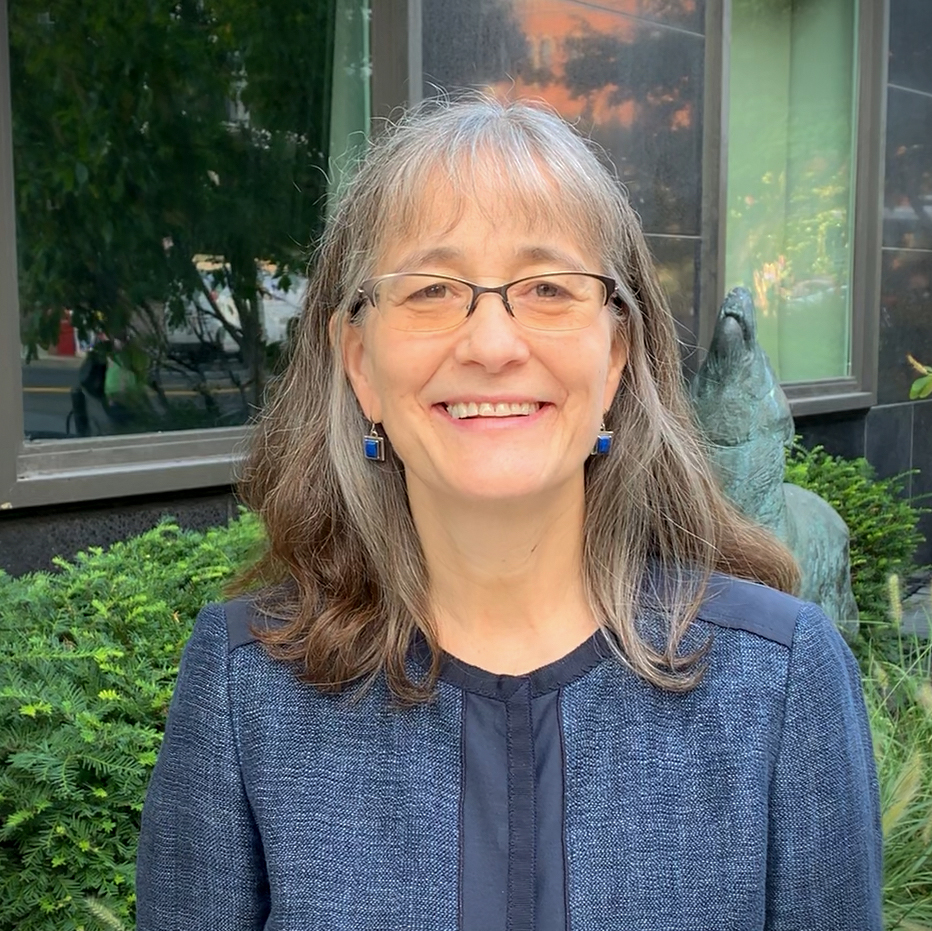 As Alaska Program Director, Nicole Whittington-Evans supervises and directs Defenders of Wildlife's efforts to protect imperiled wildlife and their habitats in Alaska.
Image