On International Polar Bear Day, mother polar bears and their cubs in the coastal plain of Arctic National Wildlife Refuge are tucked away in snow-covered dens, where the mothers have been since fall. The cubs, born in the safety of their dens and weighing one to two pounds at birth with their eyes closed, are completely dependent upon their mothers for warmth and food. The cubs will emerge for the first time alongside their mothers in late March or early April with open eyes having gained 10 or so pounds from feeding on nutrient-rich milk. After spending some time around the den to acclimate and strengthen walking skills, they will head to the coast in search of seals, their primary food source. Polar bears require sea ice to hunt for seals, but with the significant climate-driven sea ice loss the Arctic has experienced in recent years, searching for food is getting more challenging. 
Climate change is the primary threat to polar bear viability. Sea ice cover this past September was the second lowest on record, and sea ice is not only used for hunting but serves as primary habitat for polar bears. For the Southern Beaufort Sea population, which is found in the southern portion of polar bear range, the loss of sea ice is significant and is considered the main cause of their population decline. This population has decreased from an estimated 1,800 bears in the late 1980s to 900 in the last completed census in 2015 - a 50 percent reduction in only three decades. It is one of the most imperiled polar bear populations worldwide. 
Because of the threat of climate-driven sea ice loss, polar bears were listed as threatened under the Endangered Species Act (ESA) in May 2008. The ESA ensures that management activities by agencies are focused on protecting and recovering imperiled species and requires critical habitat designations. Defenders advocated for the ESA listing and for the designation of polar bear critical habitat. In 2010, more than 120 million acres were designated critical habitat, 96% of which is sea ice, and four percent is onshore. For Southern Beaufort Sea polar bears, that four percent is becoming more important as their sea ice habitat diminishes. 
The coastal plain of Arctic National Wildlife Refuge, 77% of which is designated polar bear critical habitat, is the most important onshore denning habitat for polar bears in Alaska's Arctic. It is also a key area for the protection of biodiversity providing habitat for millions of migratory birds and calving habitat for one of Alaska's largest caribou herds, the Porcupine caribou herd. It is also a very important place for Indigenous cultures, such as the Gwich'in Athabascans, who have depended on its resources for thousands of years. The Gwich'in consider the coastal plain of the Arctic refuge, the "Sacred Place Where Life Begins – Iizhik Gwats'an Gwandaii Goodlit." If we hope to maintain the viability of the Southern Beaufort Sea population of polar bears, the Porcupine caribou herd and the Indigenous cultures dependent on the area, we must ensure that this habitat remains free of industrial development and disturbance. For polar bears we also need to ensure that as much of their critical habitat elsewhere in Alaska's Arctic remains intact.
Image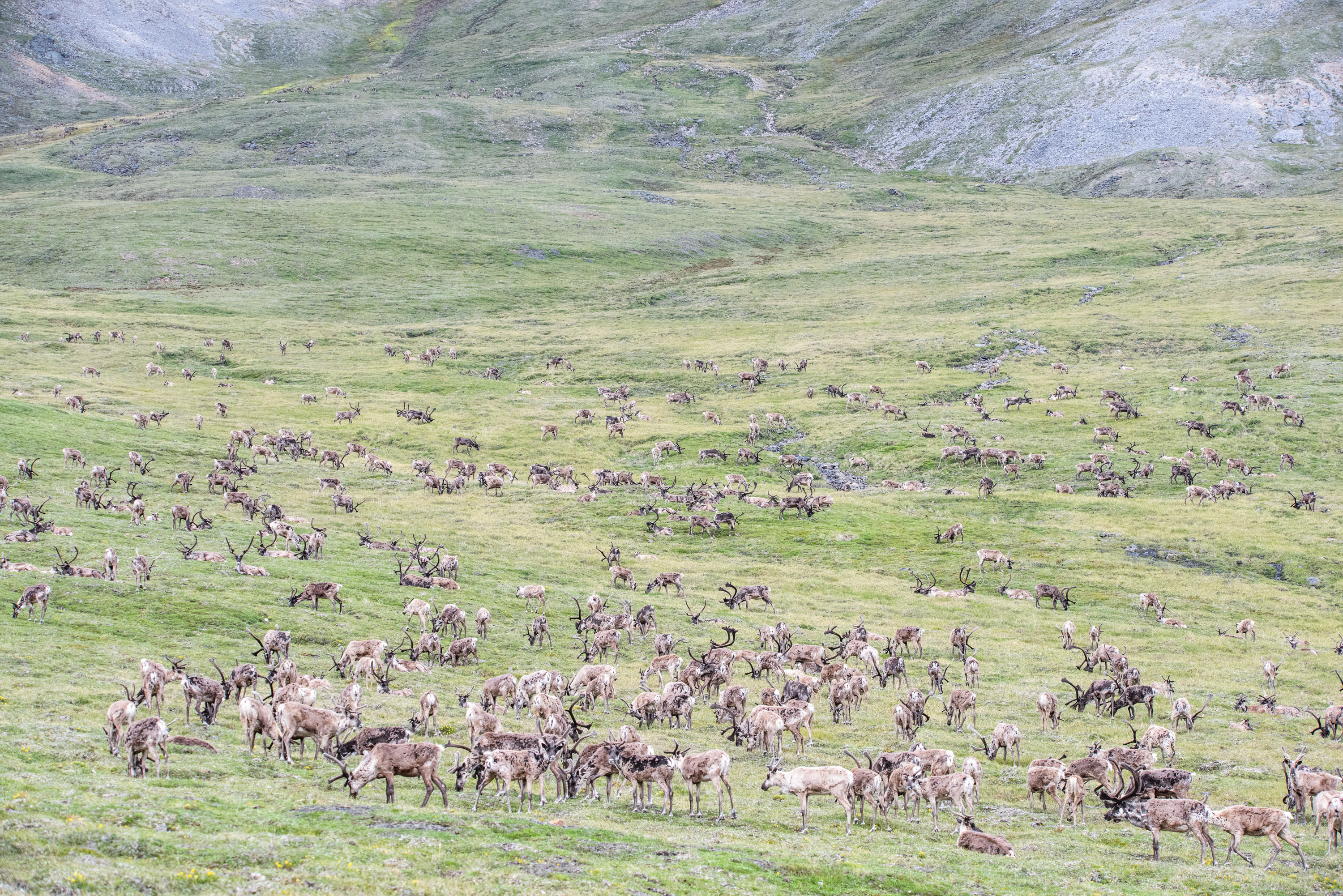 Image Credit
Alexis Bonogofsky
Image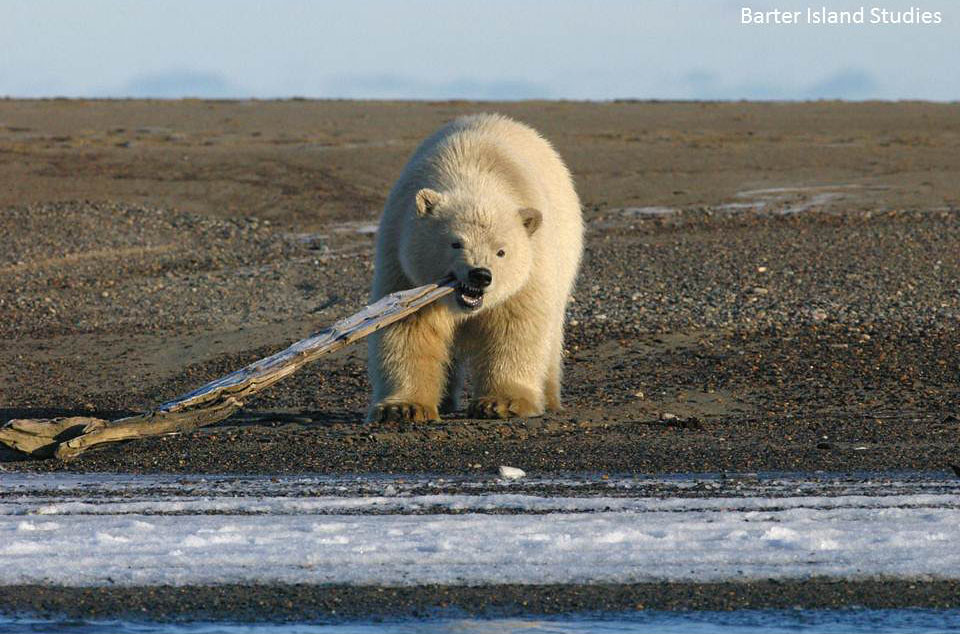 Image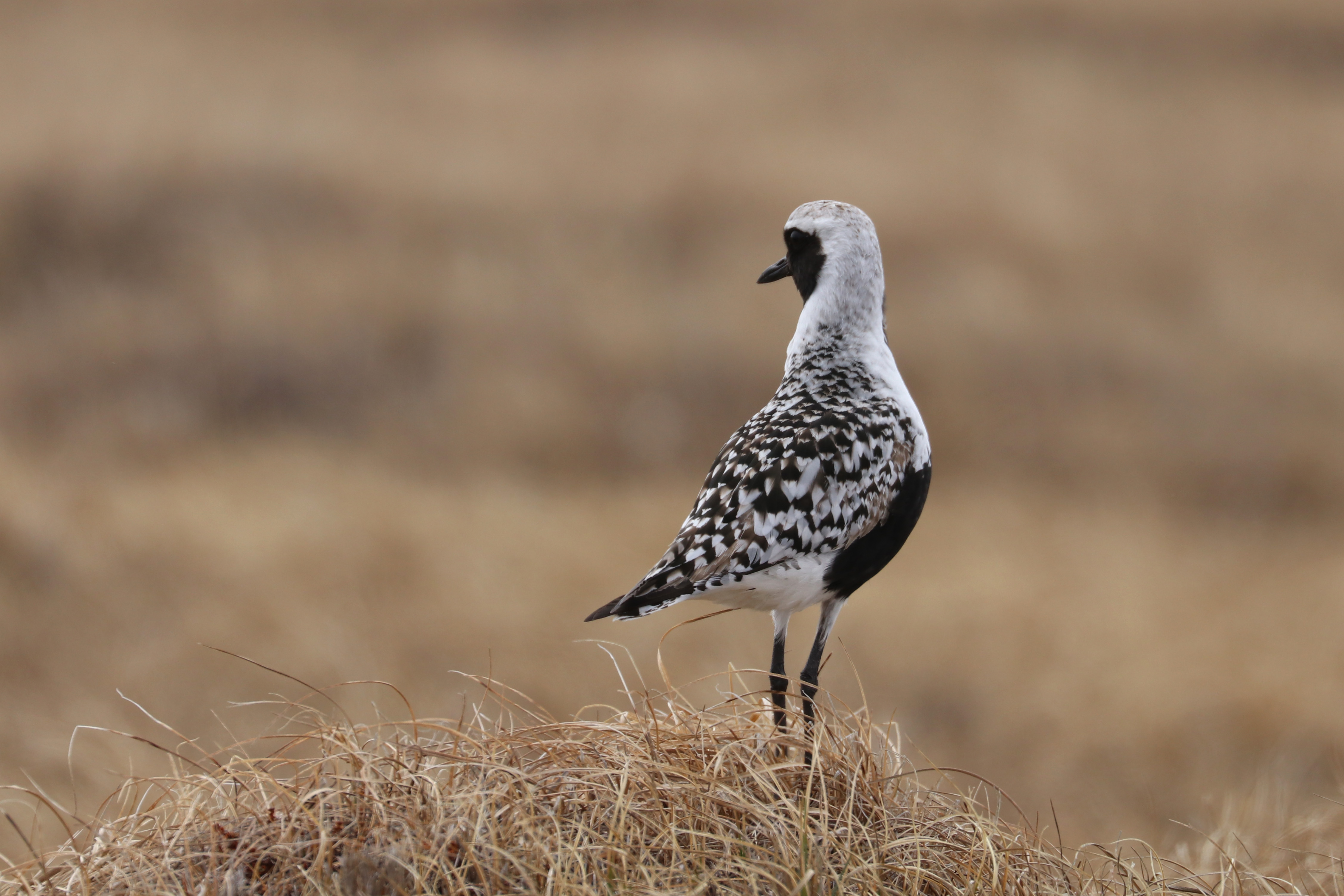 Image Credit
Shiloh Schulte/USFWS
However, in this time of great need, the Trump administration did anything but provide protection for critical habitat. Instead, it moved to open up most of the onshore critical habitat across Alaska's Arctic to oil and gas leasing. The administration also raced through planning processes, both in the western Arctic's National Petroleum Reserve – Alaska (NPRA) and in Arctic National Wildlife Refuge, to ensure that as much land as possible, including polar bear critical habitat across Alaska's Arctic, was available for oil industry bids. This involved greenlighting a massive ConocoPhillips Alaska development project in the western Arctic – the Willow development in the NPRA. The first-ever Arctic Refuge lease sale that occurred on January 6th where nine leases were sold  also was rushed, and they were poised to approve a seismic exploration proposal for the Arctic Refuge prior to leaving office. Thankfully they never did.
Image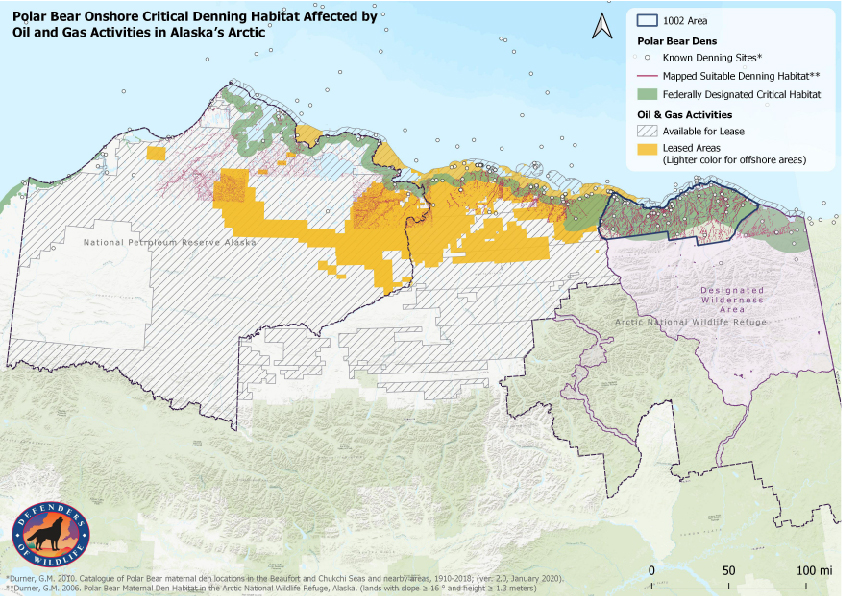 Image Credit
Defenders of Wildlife
Image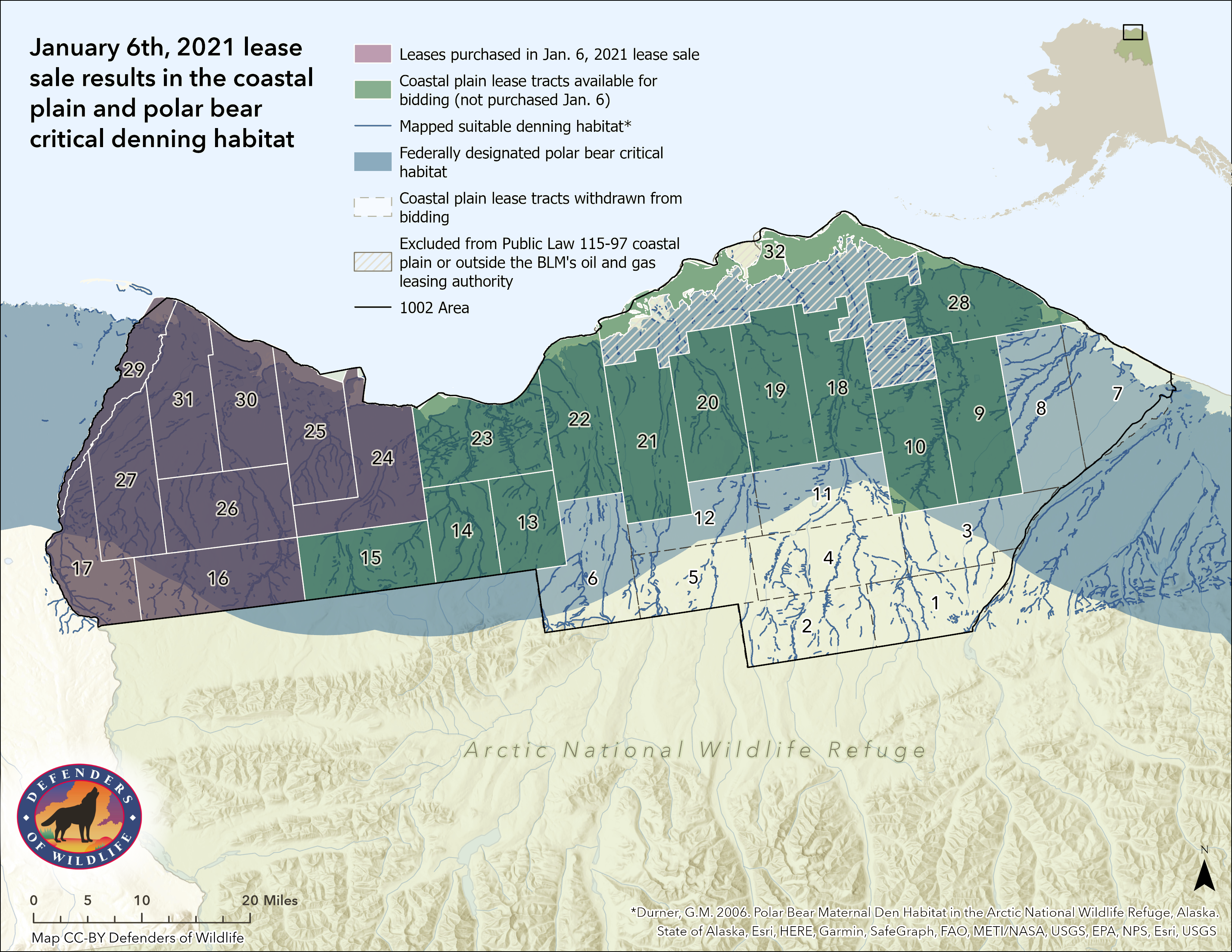 Image Credit
Defenders of Wildlife
Defenders fought against  all of these planning efforts and joined other Native and conservation partners to litigate the three final Trump administration plans that either opened the majority of lands to leasing or approved a massive development project – including the Arctic National Wildlife Refuge Leasing Plan, the National Petroleum Reserve – Alaska Willow Master Development Plan and the National Petroleum Reserve – Alaska Integrated Activity Plan. While our cases are currently playing out in the courts, we heard great news February 13 when the 9th Circuit Court of Appeals granted our request for a preliminary injunction in the Willow development project. This means no ground-disturbing activities will occur this winter, and at least not until our case is decided.
If the Trump administration had had its way in the Arctic Refuge, denning mother polar bears and cubs in the refuge's coastal plain may have been disturbed this winter by caravans of vehicles moving across the snow-covered tundra, including 90,000-pound vibroseis machines, or "thumper trucks ," that send seismic waves deep into the Earth and then bounce back. Planned operations would have included a mobile crew of up to 180 people housed in up to 50 trailers. This would have been a non-stop, 24-hour-a-day project, with scouting crews, generators, temporary airstrips, incinerators, wastewater discharges, and other industrial activities and equipment, similar to other seismic exploration projects across Alaska's Arctic. The vehicles and caravans of trailers moving across the tundra inadvertently could have crushed an undetected polar bear den or disturbed a polar bear enough to abandon her den and possibly her cubs, leaving her cubs to die alone. Cubs that emerged early from their dens also would have been at risk of death. Thanks to President Biden's Executive Orders and a Secretarial Order  issued in the first week of his administration, polar bears in the Arctic refuge can remain at rest in their dens this winter, and climate change will be addressed in this administration. This is critical to reverse the trend in sea ice habitat loss. The executive action by the Biden administration has paused and suspended any oil and gas related activities on the refuge until the administration completes a review. Our Arctic refuge lawsuit is stayed for now and seismic operations will not be approved this year.
Defenders intends to work with this new administration in the months and years ahead to ensure that polar bear critical habitat across Alaska's Arctic is protected and that seismic exploration and oil and gas development never occur in the Arctic refuge coastal plain. To protect this incredibly important and biologically rich area, the Trump administration's final leasing plan will need to be overturned, the leases that were sold on January 6 will need to be nullified and no seismic permits can be approved. We also plan to work with Congress to overturn the 2017 Tax Act provision that opened the Arctic refuge to an oil and gas leasing program. Defenders invites anyone interested in helping in these pursuits to stay in touch and work with us to make sure we protect polar bears, their habitat and this vitally important place for future generations of humans and wildlife.
Author(s)
Image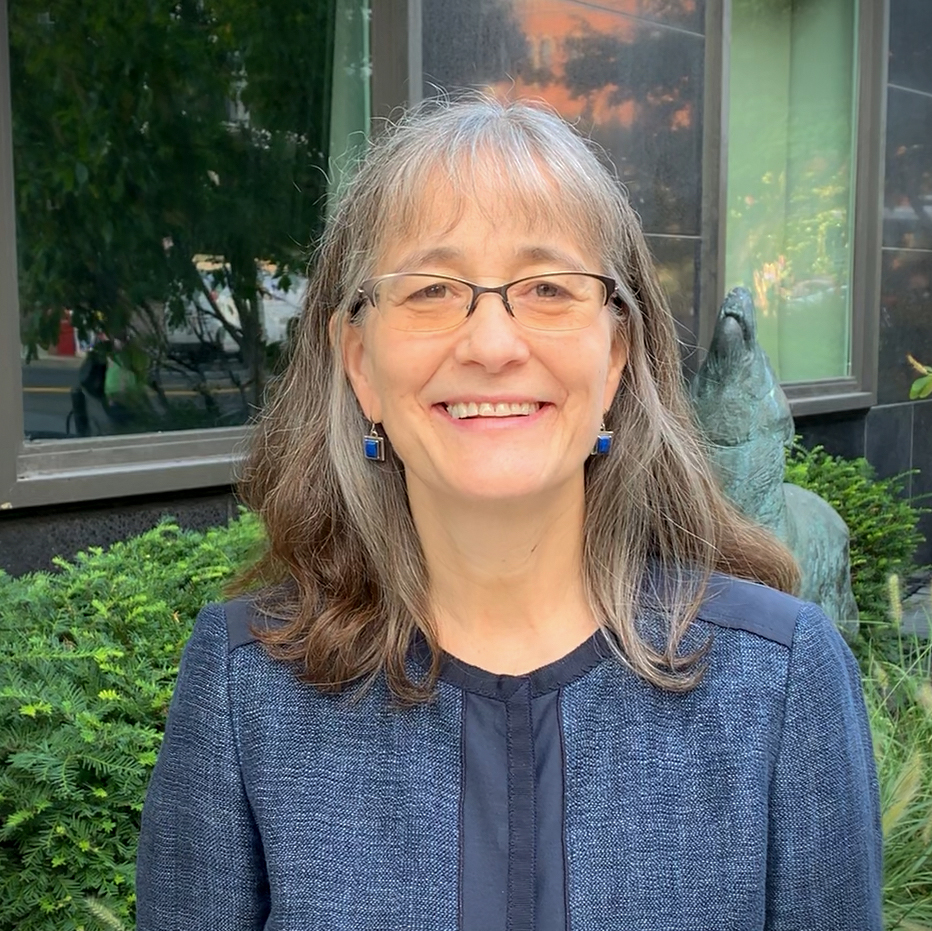 As Alaska Program Director, Nicole Whittington-Evans supervises and directs Defenders of Wildlife's efforts to protect imperiled wildlife and their habitats in Alaska.
Image