87 million Americans enjoy some form of wildlife-related recreation, according to the U.S. Fish and Wildlife Service. Together they spend more than $122 billion annually in wildlife-related activities—from buying binoculars to paying for lodging.
Many people enjoy watching wildlife in nature documentaries on television, which can inform, entertain and even instill a curiosity for nature. But there really is no substitute for the real thing. An authentic wildlife-viewing experience against the backdrop of nature's majesty is unedited and unscripted, and it satisfies all five senses in a way no technology can.
Calling it "wildlife-viewing" is a little misleading though. A better description is "wildlife interacting," because every person who watches wildlife becomes part of the scene. Unfortunately, a person can sometimes participate in undesirable and harmful ways. The wildlife watcher who keeps a parent bird away from a nest, a turtle hatchling from reaching the water or an animal from resting can actually have a fatal impact. 
Enjoying wildlife clearly comes with responsibilities. The goal is to have a minimal effect on the wildlife you are observing.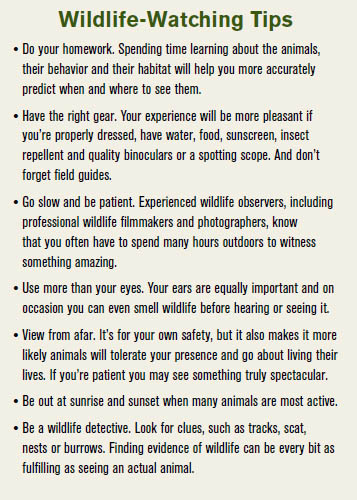 That said, grab your binoculars and camera. 
Go it alone if you want to set your own pace and linger as long as you want. There is also something to be said about sharing a wildlife-watching experience. 
Time outdoors can strengthen the fabric of families. And taking a child can open your eyes to things you might otherwise miss. Many adults need to relearn how to look at and enjoy the natural world. Sometimes we are only looking for the large predators and other charismatic species we see on television. 
In contrast, young children have an innate fascination with living things big and small. They are fascinated by that banana slug that adults often pass right by. Tracks in the mud can lead to dozens of questions. In many ways, children have the desire, perception, pace and curiosity for truly discovering nature. They just need an adult to take them.
However you do it, get out there and start watching. Every season provides its own opportunities if you know where to look.           
—Gary Vequist and Daniel Licht

Adapted from the book Wildlife Watching in America's National Parks: A Seasonal Guide, Texas A&M University Press 2013.
With engaging stories and spectacular photography, Defenders of Wildlife's magazine provides readers with a behind-the-scenes look at what biologists and conservationists are doing to protect imperiled wild animals and plants.
Get the Magazine