A year ago, I stood next to Fort Peck buffalo manager Robbie Magnan, looking out over the prairie as he proclaims, "Someday, we will have buffalo here." One year later, both of us leaning up against the same fence, I smile, "Robbie, today's the day!" 
I arrived early to the release site after driving along a dirt road for several miles to the middle of the Fort Peck Indian Reservation. These tribal lands are located in northeastern Montana, with some of the most beautiful native prairie that I have ever seen. 
Today is a blue bird day, which is fortunate since thunderstorms were in the forecast, causing Magnan some concern about muddy road conditions for the arrival of the large horse trailers carrying the bison. But no worries today! After years of political negotiations, and months of planning, everything is lining up for the special occasion. 
As I jump out of my truck, I see Fort Peck Council Chairman, Floyd Azure, and shake his hand, congratulating him, "The day has finally come for the arrival of those buffalo from Yellowstone!" 
"Yes, they are coming home to our people," he says, grinning with obvious pride. 
In attendance for the day's events are Cameron Sholly, the current Superintendent of Yellowstone National Park, and Dan Wenk, who previously held the position. Both were instrumental in the state and federal approvals for Yellowstone bison relocation to Fort Peck. Sholly, Wenk, and former Yellowstone bison biologist Rick Wallen all receive hand-sewn star quilts by the Assiniboine and Sioux for their efforts.
Chairman Azure says, "Robbie has been the key to this operation." Since its beginning, Robbie Magnan has directed Fort Peck's reputable buffalo program and led the effort when the first Yellowstone bison arrived in 2012. Defenders helped with both relocation efforts, thanks to our generous members and supporters, as well as with defeating multiple efforts in the Montana legislature that were meant to stop the tribes from restoring Yellowstone bison to their lands. The bison in 2012 were the start of Fort Peck's cultural herd of Yellowstone origin, which now numbers 375. Today, after numerous acquisitions of land and tribal grazing leases, many with Defenders' assistance, the tribal bison reserve encompasses nearly 15,500 acres of prairie. What is significant with today's shipment of bison is that they are the first in a recently-approved program designed to annually divert as many Yellowstone bison as possible from slaughter (to maintain a court-mandated population limit in the Yellowstone area) and instead restore them to tribal and public lands.
Everyone here today played some role in this happening. The Montana Governor's Office is also here, with Gov. Bullock formally acknowledging the dedication of Fort Peck to buffalo conservation. 
I say to the Chairman, "Thank you for your leadership and perseverance. It has been an honor working with your tribes, along with our NGO partners, helping convince government agencies to finally divert animals from slaughter to instead go to growing tribal herds." It really is great to now celebrate, we both agree. 
The 55 bison to arrive at Fort Peck today represents a major milestone in bison conservation. Fewer than 1,000 bison remained after the mass slaughter of nearly 30 million bison in the mid- to late-1800s, with a few hundred holed up in the Pelican Valley, deep in Yellowstone. 
"That's why Yellowstone bison are so highly valued," I say to Johnny Bear Cub, a community leader who helped with community engagement for bringing back the buffalo. 
She agrees, "Because those buffalo came from the original wild herds, their genetics can now continue with our cultural herd." 
The bison arriving today – all bulls – will undergo one final test for disease before being added to the Fort Peck herd or sent to other tribes with conservation herds. Magnan says Fort Belknap Reservation in Montana, Wind River Reservation in Wyoming and the Henry Mountains in Utah are first on the list, and Fort Peck will keep a few for their cultural herd as well, supplemented by 34 females coming from the Yellowstone population after they complete disease testing in January. 
Fort Peck has long sought approval from the U.S. Department of Agriculture for the use of their quarantine facility to help with disease management and restoration of healthy bison. Testing protocols are required for bison to leave the Greater Yellowstone Ecosystem, where the disease brucellosis is found. The disease can cause cows to abort their young and is of economic consequence to the livestock industry. Even though there has never been a case of bison transmitting brucellosis to cattle, the protocols remain a precaution and a reality that we must face when it comes to the important work of restoring bison to the plains. 
Many bison that migrate out of Yellowstone during the winter months are rounded up and tested for brucellosis. Typically, half will test positive for brucellosis and half negative. However, in order to maintain Yellowstone's court-ordered population target of 3,000 animals, all bison rounded up have unfortunately been sent to slaughter, regardless of disease status. 
Now that the park approved its long-awaited plan for quarantine and relocation and received approval from other federal and state agencies, animals that test negative for brucellosis can now enter the program and a few years later be available for restoration. 
Montana's state Veterinarian Marty Zaluski also came to the celebration and was thanked for signing the agreement that allowed Fort Peck to receive the bison. For Fort Peck's part, using their new quarantine facility, they must monitor the animals and conduct a final post-year test for brucellosis. 
"I hear the trucks!" Robbie exclaims, waving his hands in the air, signaling people to gather. "Let's all move over to the fence to watch them unload." 
I squint my eyes. I can see on the horizon the parade of trailers rumbling toward us. My heart races with excitement, as I grab my camera from the cab of my truck and run over to the group assembled.  The last truck-trailer pulls up to a stop, just in line with the others. The Fort Peck drummers begin drumming the Buffalo Song, singing as they play. Each driver is now positioned at the back of their trailer. 
Magnan shouts, "Open the doors!" 
The moment has arrived, the trailer doors open and the bulls come bounding out, each one running hard across the prairie, without stopping and now far out of my eyesight. 
"They're home" says Magnan.
Author(s)
Image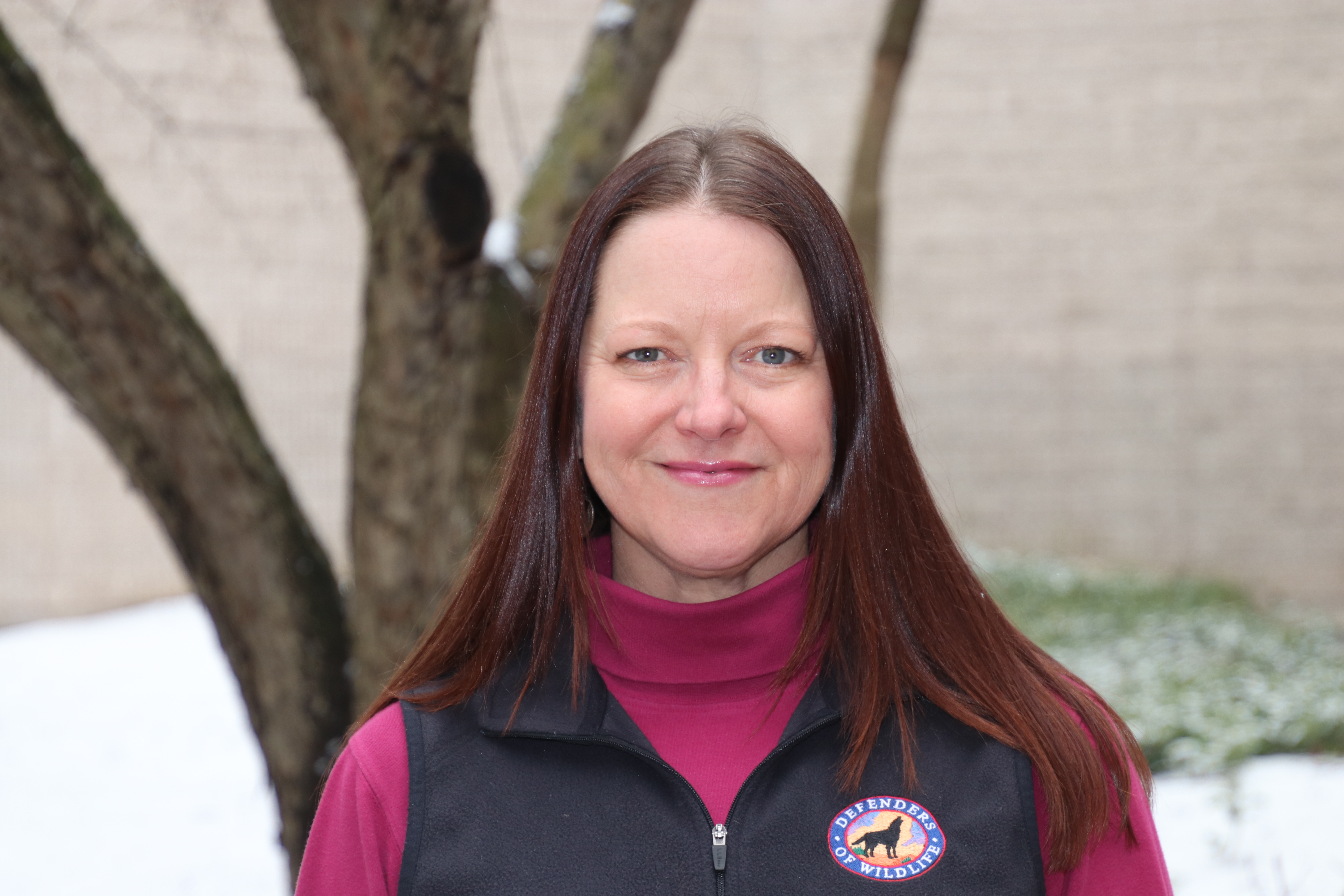 Chamois Andersen is responsible for advancing the Defenders' conservation programs for the American bison and endangered black-footed ferret in the Rocky Mountains and Great Plains.
Image