Help prevent bird collisions by turning out the lights between 11pm and 6am.
Lights Out Texas is a campaign of education, awareness and action that focuses on turning out lights at night during the spring and fall migrations to help protect the billions of migratory birds that fly over Texas annually.
When Should I Go Lights Out?
2023 Spring Migration:
Full Migration: March 1 – June 15, 2023
Peak Migration: April 22 – May 12, 2023
2022 Fall Migration
Full Migration: August 15 – November 30, 2022
Peak period: September 5 – October 29, 2022
Image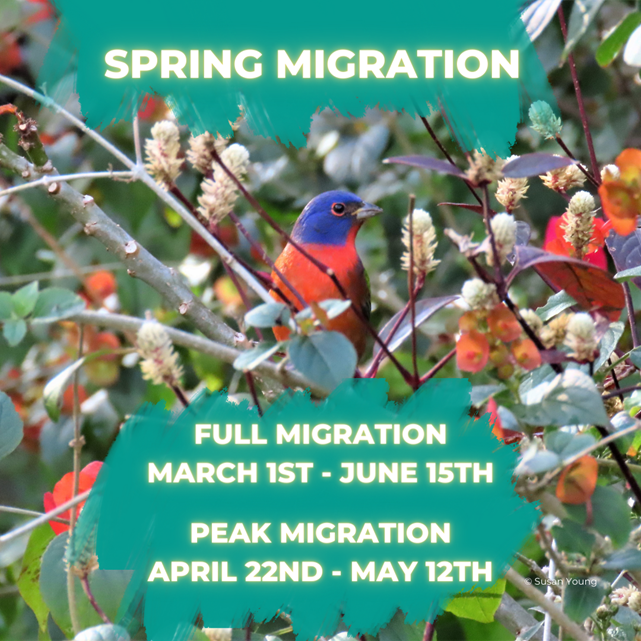 Help protect the billions of migratory birds that fly over Texas annually. We encourage everyone to turn off non-essential lights at night from 11 p.m. - 6 a.m. during the migration periods, and where conflicts apply, prioritize lights out during the critical peak migration periods.  
Birds are essential to our planet's ecology and local economies. Birds provide ecosystem services, act as benchmarks for environmental health, increase livability, and connect people of all ages and abilities to the natural world. Birds also support the Texas economy. In the Rio Grande Valley alone, Texas A&M found that nature tourism—which is dominated by bird watching—contributes $300 million to the economy and supports 4,407 full and part-time jobs annually.
Texas is globally important for birds.
Approximately 1 of every 3 birds migrating through the U.S. in spring, and 1 of every 4 birds migrating through the U.S. in the fall, or nearly two billion birds, passes through Texas.
Protecting birds in Texas promotes conservation of bird populations across the Americas.
Lights Out Texas was initiated as a statewide effort in spring 2020 to protect birds from light pollution by the Cornell Lab of Ornithology and BirdCast, with the essential support of founding Texas partners Houston Audubon, the Dallas Zoo and the Perot Museum of Nature and Science.
Thanks to this partnership effort, the Lights Out Texas initiative and pilot project made a lot of exciting news during the fall of 2020, when Mayor Johnson of Dallas, Texas, issued a proclamation declaring "Lights Out Nights". For spring 2021, these groups unified efforts across Texas for even bigger impact with the help of coordinating organization Texan by Nature, founded by former First Lady Laura Bush. As of fall 2022, Audubon Texas coordinates the statewide Lights Out Texas program with the support of the Cornell Lab of Ornithology and many other supporting organizations in Texas.
Birds at Risk
U.S. bird populations are declining rapidly, with 1 out of every 4 birds lost since 1970. An estimated one billion U.S. bird deaths occur annually from collisions with buildings and structures, with migratory species at most risk. Migrating birds are often concentrated in cities because of attraction and disorientation resulting from light pollution. Birds are then doubly at risk for collisions and detours nocturnally, and collisions with reflective glass in commercial and residential windows.
What Can I Do to Help Birds?
Building owners, businesses, developers and homeowners can help protect migrating birds by turning off all non-essential nighttime lighting on buildings and other structures from 11:00 p.m. to 6:00 a.m. each night.
Lighting Guidelines for Everyone:
Turn off all non-essential lights from 11:00 p.m. to 6:00 a.m. each night during migration season.
Do not use landscape lighting to light up trees or gardens where birds may be resting.
Close blinds at night to reduce the amount of light being emitted from windows.
For essential lights (like security lighting) use the following dark skies friendly lighting practices:
Aim lights down.
Use lighting shields to direct light downwards and to avoid light shining into the sky or trees.
Use motion detectors and sensors so lights are only on when you need them.
Additional Guidelines for Buildings Taller Than Three Stories:
Extinguish or dim: Exterior and decorative lighting (i.e. spotlights, logos, clock faces, greenhouses and antenna lighting); lobby/atrium lighting; and lighting in perimeter rooms on all levels of the building.
Avoid: Floodlights; illuminating interior plants or fountains, and unoccupied floors; scheduling cleaning crews after dark; and blue-rich white light emissions (lighting with a color temperature of over 3000 Kelvin).
Use: Desk lamps or task lighting rather than overhead lights; blinking lighting in place of continuously burning lights; and warm light sources (less than 3000 Kelvin) for outdoor lighting.
With your help, we can dramatically reduce the hazards posed by light pollution in cities nationwide and allow birds to resume their typical migratory behaviors.
Additional ideas for building owners and managers include:
Motivate and inform your staff and tenants.
Explain that adopting this new practice is a win-win; saving both birds and money. 
Clearly identify what lights need to be turned out, and how to go about shutting them off.
Designate staff member(s) responsible for turning off lights and make sure they know when to do so. 
Publish your commitment and your success to your community.
In your establishment: Place messaging around your establishment to help your tenants understand why you decided to turn lights out during migration season. 
On social media and your website: Share your success and influence others to make a positive change for wildlife and energy efficiency.
In the press: Tell a reporter! As a leading establishment in your community, your commitment to go lights out to save birds is newsworthy. Push the news out to local and regional media channels.
Other Resources
Invite Defenders to speak about Lights Out, Texas, at your city. For information, email southwest@defenders.org. 
Texas Cities and Counties Involved in Lights Out Texas
Lights Out Texas is a true collaboration. Please join us in thanking our Lights Out Texas' supporting cities and counties
Hill Country/Austin area
City of Austin, Office of Sustainability
City of Buda
City of Dripping Springs
City of Fredericksburg
City of Kyle
City of San Marcos
City of Wimberly
City of Woodcreek
Hays County
Travis County
Dallas/Fort Worth Metroplex area
City of Arlington
City of Cedar Hill
City of Dallas
City of Fort Worth 
Ellis County
Houston/Gulf Coast area
City of Houston
City of Galveston
City of League City
City of San Antonio
West Texas area
Advocating for Wildlife in Your State
Image