Although I grew up near the ocean in South Florida, I somehow avoided developing an affinity for nature as a kid and never imagined a career working with wildlife. But during a break from college in 1979, I fell into a job caring for some California sea lions at my local oceanarium. I was good at it, but I evolved a passion beyond individual animals to finding ways to conserve populations and habitats. That evolution ultimately led to a 20-year stint managing the pioneering sea otter research and conservation programs at the Monterey Bay Aquarium. By late 2019, after sticking my nose in every activity and project that could benefit sea otters in some way, I found myself looking back on 40 years spent wrestling with and trying to protect marine and aquatic mammals. I had accomplished some good things, but time had flown, and retirement loomed. Suddenly, it seemed like a good moment to step away from it all.
But then I saw the posting for a new position in Defenders of Wildlife's California program office…with an emphasis on sea otters! My initial intrigue morphed into temptation, and before I knew it, I joined Defenders in January to expand the organization's sea otter programs and to focus on a range of other California coastal conservation challenges.
And now, it's World Otter Day, which is a good time not only to celebrate otters but also to reflect on how Defenders can help conserve sea otters and preserve nearshore habitat.
Even before I arrived, Defenders was engaged with our partners at Sea Otter Savvy, a program that supports responsible wildlife viewing and coexistence with wildlife. I'm excited to expand that Sea Otter Savvy partnership while broadening Defenders' position as a key player in the sea otter conservation world. By connecting with scientists, agency managers, policymakers and other nonprofit organizations, we will drive discussions about how to manage sea otter populations throughout their entire range in the North Pacific.
Different populations of sea otters face diverse threats and challenges depending on geography. What sea otters face in California—and even within local regions in California—differs from what sea otters must contend with in British Columbia or southeast Alaska or the Aleutian Islands. That's why our agenda for sea otters in the coming year will include a range of regional actions. Luckily, that means I'll get to collaborate with fantastic Defenders team members in our Northwest and Alaska field offices to support their engagement on human–sea otter conflicts in those areas.
The biggest problem in California is that the southern sea otter population can't seem to expand its range. Starting from a few dozen remaining otters along the coast of Big Sur in the early 1900s, the current population of close to 3,000 animals now extends from just west of Santa Barbara to about 50 miles south of San Francisco. But this population reached those range extents 20 years ago and hasn't stretched any farther, despite protections afforded by the Endangered Species Act. Bites from white sharks and mortality from pollution and disease have constrained range expansion, and mathematical modeling has predicted that sea otters won't manage to migrate northward for decades, or perhaps ever, without some sort of intervention. To address the conundrum, the U.S. Fish and Wildlife Service began a comprehensive Species Status Assessment in 2019 to evaluate the latest research and information as a foundation for enhanced management strategies. One such plan could involve reintroducing sea otters to areas of their historical range, such as San Francisco Bay or farther up the California coast. Whichever options emerge, I'll leverage my experience to ensure that Defenders steers such programs in the right direction for the recovery of this keystone species.
Defenders will also lend its support to and learn from groups that have embarked on sophisticated, research-based projects to contend with sea otter ecology and coexistence issues. The Elakha Alliance wants to assess whether reintroducing sea otters into Oregon would make coastal ecosystems more robust and resilient. And the Coastal Voices project has blended science and traditional knowledge to manage the recovery of sea otters in British Columbia and Alaska in ways that consider social justice and ecological sustainability. These projects embody the kind of forward-thinking, systematic and inclusive approach to conservation that Defenders will insist upon as we apply our energies to sea otter conservation up and down the Pacific Coast.
We will continue to sponsor and oversee Sea Otter Awareness Week, the annual recognition of the vital role that sea otters play in nearshore ecosystems. This year's event will run from September 20 to 26 and will consist of public talks and activities hosted by various marine science institutions. Defenders will work with Sea Otter Savvy and California State Parks to make Sea Otter Awareness Week a success whether activities occur in person or virtually.
Defenders will also continue to support and promote the California Sea Otter Fund and to advocate for California Senate Bill 587, which will extend this voluntary tax contribution fund on the state tax return through 2028.
As I write this in my home office in Pacific Grove, California—okay, actually, I'm sitting outside in the sun!—I'm feeling lucky and excited that I can continue to advocate for the recovery of sea otters and to address threats to California's coastal ecosystems. Defenders of Wildlife has a powerful voice in California's conservation community, and I look forward to lending my knowledge and experience to help our sea otter and coastal conservation programs grow.
So retirement can wait. Happy World Otter Day!
Author(s)
Image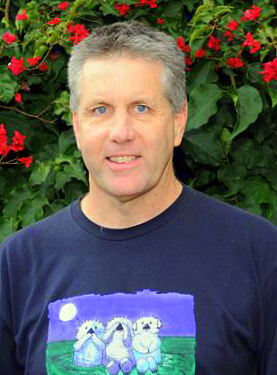 As California Representative, Andy's work focuses on sea otter issues in California, Oregon, Washington, British Columbia and Alaska, and he covers threats to California's coastal ecosystems and wildlife, such as plastics and other ocean pollution, fisheries, energy development, human disturbance and climate change.
Image