Sea Otter Awareness Week
September 24 – 30, 2023
Annually, throughout the last full week of September, we celebrate sea otters during Sea Otter Awareness Week. We encourage zoological and educational institutions, governmental agencies and communities to plan and undertake events that highlight sea otters. These activities include sharing stories, disseminating science and generating media that inspire a deeper awareness of these unique marine mammals, their ecological importance and the many challenges they face.
Sea Otter Awareness Week is organized and sponsored by Defenders of Wildlife, Sea Otter Savvy, California Department of Parks and Recreation and the Monterey Bay Aquarium.
2023 Theme: Restoring Missing Links
This year's theme, "Restoring Missing Links," recognizes that sea otters remain absent from large portions of their historical range while celebrating the active efforts of conservation groups to restore a continuous population of these charismatic creatures and other missing elements along the Pacific coast.
As a keystone species, sea otters maintain balance within the intricate web of life that epitomizes coastal ecosystems. By preying on sea urchins, sea otters control urchin populations and prevent the destructive consequences of unchecked grazing. This regulation allows kelp forests to flourish, yields vital habitat for numerous other species and improves ecosystem biodiversity and resilience.
But sea otters can also reestablish links within a human context. Many Indigenous communities have longstanding cultural and spiritual relationships with the natural world and wish to revive sea otter populations within nearshore waters. For coastal residents and visitors, the mere existence of sea otters generates enjoyment and a unified desire to see these endearing animals thrive.
As we celebrate Sea Otter Awareness Week, let's consider how we might help these animals return home, reconnecting what's missing in those natural systems and realizing the ecological and socioeconomic value these once-nearly-extinct animals generate in coastal areas. 
Sea otters have influenced the livelihoods, culture and spiritual aspects of coastal communities throughout human history. Many of these communities have translations for sea otter, including these that appear in the inner ring of the logo: sea otter (English); nutria de mar (Spanish); elakha (Chinook jargon); kalan (Russian); rakko (Japanese); chngatux̂ (Unangam Tunuu/Aleut); taa-nin'-sree-ni (Tolowa); magúmgu (Alsea); suusič (Chochenyo Ohlone); and qhamós' wehke (Kashia).
Thanks to Heather Barrett of Sea Otter Savvy for creating the 2023 logo!
Events Calendar
Saturday, September 23
Elkhorn Slough Reserve Open House
9:00 am to 5:00 pm PDT
Hosts: Elkhorn Slough Reserve and Elkhorn Slough Foundation
This year's Open House will honor Latino Heritage Month and celebrate the local community. This family-friendly day on the shore of prime sea otter habitat will include crafts and games, information booths highlighting research and restoration, demonstrations by wildlife wardens, bird walks and more!
Saturday, September 23
Annual Coastal Cleanup Day
9:00 am to 12:00 pm PDT
Host: Save Our Shores
Kick off Sea Otter Awareness Week by cleaning up the environment for sea otters and other wildlife! Volunteer with Save Our Shores at one of 60 coastal cleanup sites around Monterey Bay National Marine Sanctuary, or find a location farther afield as part of the 39th California Coastal Cleanup Day.
Sunday, September 24
The Cultural Significance of Sea Otters to the Ohlone
12:00 pm to 1:00 pm PDT
Hosts: Sea Otter Savvy and The Lawrence Hall of Science
Cafe Ohlone's Vincent Medina and Louis Trevino will join Sea Otter Savvy's Heather Barrett at the Lawrence Hall of Science's new Outdoor Nature Lab (1 Centennial Drive in Berkeley, CA) to talk about sea otters and their significance to the Ohlone people.
Monday Through Friday, September 25 - 29
Daily Dose of Otter Goodness
10:30 am, 1:30 pm, and 3:30 pm PDT
Host: Monterey Bay Aquarium
Daily during Sea Otter Awareness Week, catch live sessions where the Monterey Bay Aquarium's Animal Care staff trains the exhibit otters to be active participants in their healthcare and provides puzzles and challenges that enrich the lives of the feist and inquisitive otters.
Monday, September 25
Second Chances for Sea Otters *
12:00 pm to 1:00 pm PDT
Hosts: The Marine Mammal Center and Sea Otter Savvy
Marine mammal medicine experts Dr. Cara Field and Dr. Jeff Boehm will expand on the We Were Here concept by exploring the intricacies of southern sea otter rehabilitation and conservation and the potential reintroduction of this population to areas of its historical range.
Monday, September 25
Elakha Next Steps & What Makes Sea Otters Unique
6:30 pm to 7:30 pm PDT
Host: Elakha Alliance
YouTube Livestream: Coming Soon!
Executive Director Jane Baccheiri will discuss the next steps for the Elakha Alliance's efforts to return sea otters to Oregon. As an added bonus, Elakha's Director of Outreach and Community Relations, Chanel Hason, will highlight what makes sea otters so biologically intriguing.
Tuesday, September 26
Float Down the Coast! *
12:00 pm to 1:00 pm PDT
Host: Sea Otter Savvy
Take this unique opportunity to virtually visit locations with and without sea otters on this southward journey along the Pacific coast. Sea otter biologists, tribal representatives and interpreters will share information on sea otter behavior, habitat and historical significance.
Wednesday, September 27
Conceptual Planning for Southern Sea Otter Reintroduction
5:00 pm to 6:00 pm PDT
Host: Defenders or Wildlife
YouTube Livestream: Coming Soon!
Registration Link: Register Here
Defenders' sea otter expert Andy Johnson will present the collaborative behind-the-scenes efforts to support an eventual reintroductdion of southern sea otters. Learn about the complexities and opportunities inherent to reintroducing species and rewilding damaged nearshore ecosystems.
Wednesday, September 27
What the Fluff: Sea Otter Fur and Thermal Function Across Age Classes
5:30 pm to 6:30 pm PDT
Host: Morro Bay State Park (Morro Bay Museum of Natural History)
Researchers always believed that sea otter pups had more hairs than adult sea otters until graduate student Kate Riordan counted hairs on the planet's furriest animal. Learn about sea otter hair and heat loss! Free entry to the Museum of Natural History (20 State Park Road, Morro Bay, CA) after 5:00 pm.     
Thursday, September 28
Panel Discussion on Sea Otters and Aquaculture *
12:00 pm to 1:00 pm PDT
Hosts: Point Reyes National Seashore Association and Sea Otter Savvy
In the We Were Here sea otter event, oyster farmers, governmental agency managers and scientists will discuss the potential conflicts between sea otters and the aquaculture industry. Learn about oyster farming in California and hear about the impacts and opportunities of reintroducing sea otters.
Thursday, September 28
Livestream Gaming: Space Otter Charlie
3:00 pm PDT
Host: Monterey Bay Aquarium
Otter interpretation and video games! Join the Aquarium's social media team and Sea Otter Program Manager Jess Fujii for a livestream of Space Otter Charlie. They will go where no otter has gone before... and help streamers learn more about these mighty marine mustelids.
Thursday, September 28
Sea Otter Genomes from Japan to Baja California: Aquatic Adaptation, Fur Trade Devestation and Lost Populations *
5:00 pm to 6:00 pm PDT
Host: San Diego Zoo Wildlife Alliance

View the YouTube Livestream
Dr. Annabel Beichman will present research on sea otter genomics and lost populations in this We Were Here sea otter program special feature. Dr. Beichman will talk about how signals of sea otters' evolution to the marine realm and the scars of the fur trade can be detected in their genetic code.
Friday, September 29
Reintroduction of predators: The Key to a More Resistant Kelp Forest? *
12:00 pm to 1:00 pm PDT
Hosts: Marine Conservation Institute
In a We Were Here sea otter presentation, Dr. Jorge Arroyo Esquivel will review his mathematical modeling of reintroducing sea urchin predators, such as sea stars and sea otters, that could have a significant impact on the resistance of kelp forests to marine heatwaves and overgrazing by urchins.
Saturday, September 30
Forage Feeding Frenzy!
10:30 am PDT
Host: Oregon Coast Aquarium
At this morning feeding session, caregivers will offer the otters sea urchins, mussels and shelled clams-items the otters don't usually receive. During the ensuing frenzy, Curator Brittany Blades will explain how researchers conduct activity budgets on wild sea otters and will share an ethogram activity for guests to collect their own foraging data on the Aquarium's sea otters.
Saturday, September 30
The Spore Solution: The Complicated California Kelp Conundrum and What is Happening Now *
12:00 pm to 1:00 pm PDT
Host: The Noyo Center

View the YouTube Livestream
Elizabeth Carpenter will describe the ecological mechanisms that caused the demise of the California kelp forest systems and a hopeful new restoration approach to help revive them. She will describe the nuanced ecology of kelp forest communities, the role of sea otters and the concerns of fisheries.
We Were Here events are denoted with a star (*) after the event title.
Also follow our hashtags:
Image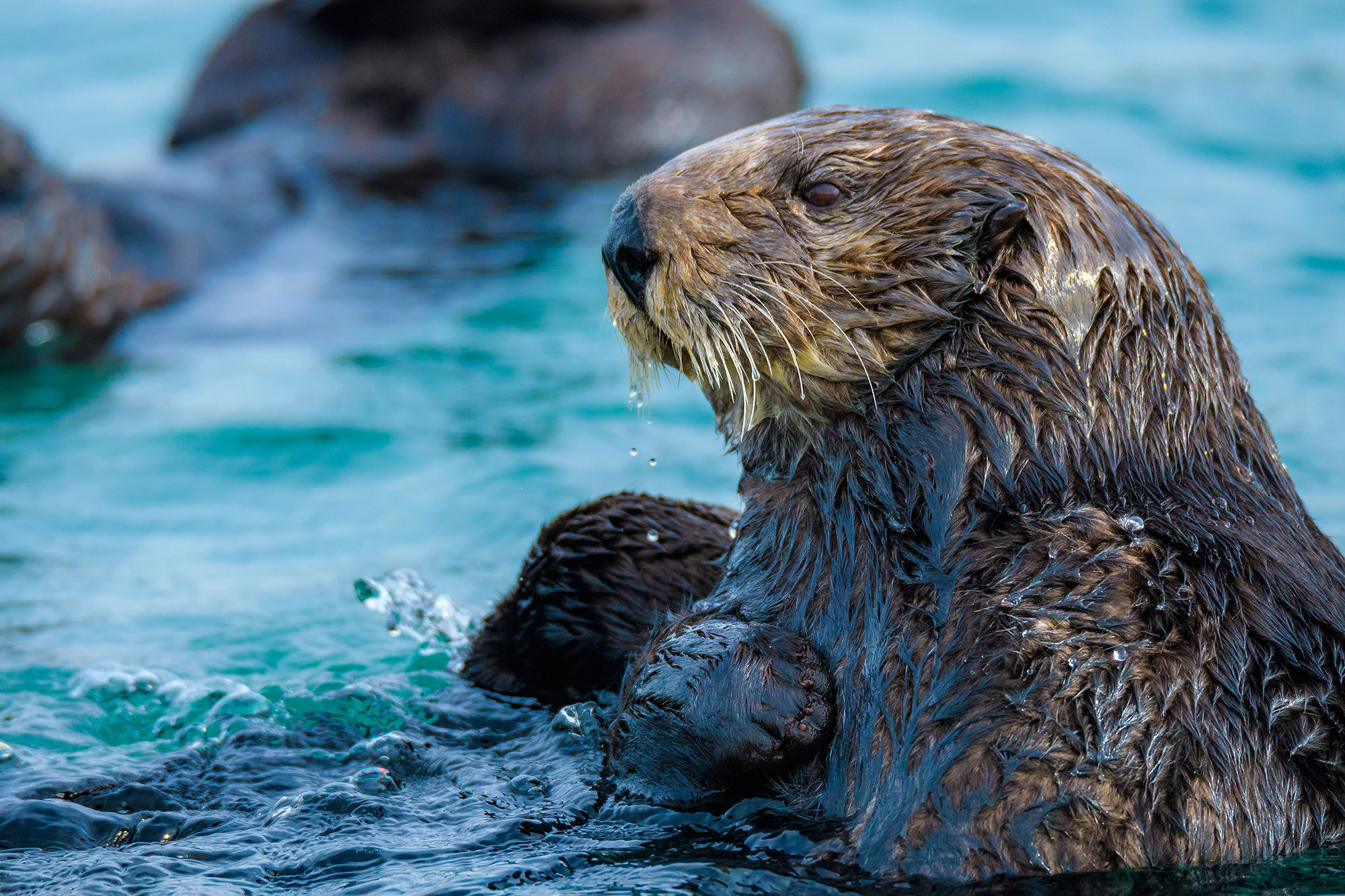 Joshua Asel
Image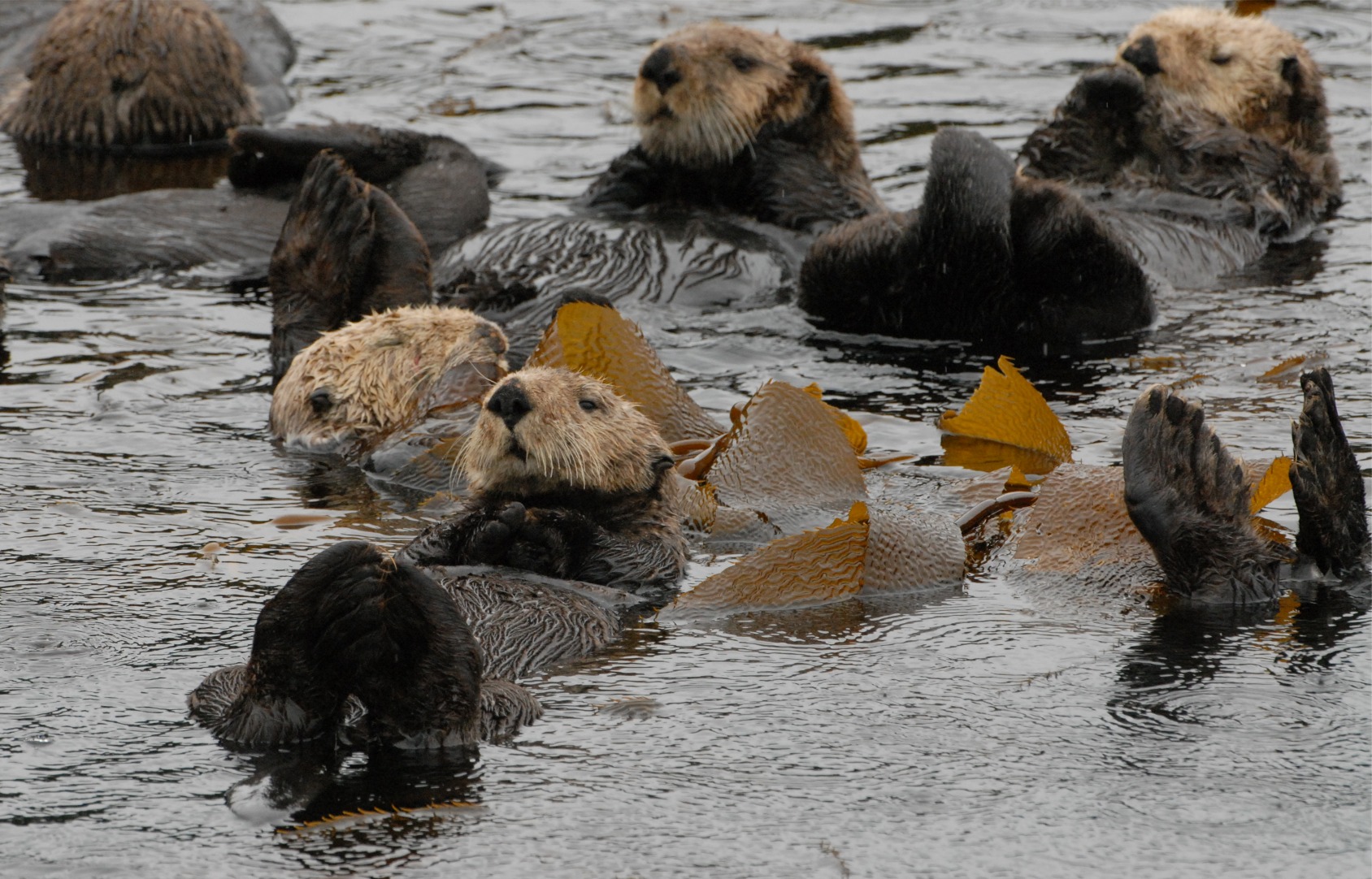 Lawrence Swayne
The Extraordinary Sea Otter
Tour the special places that play a part in the past, present and future recovery of California's sea otters!
Explore Sea Otters
Image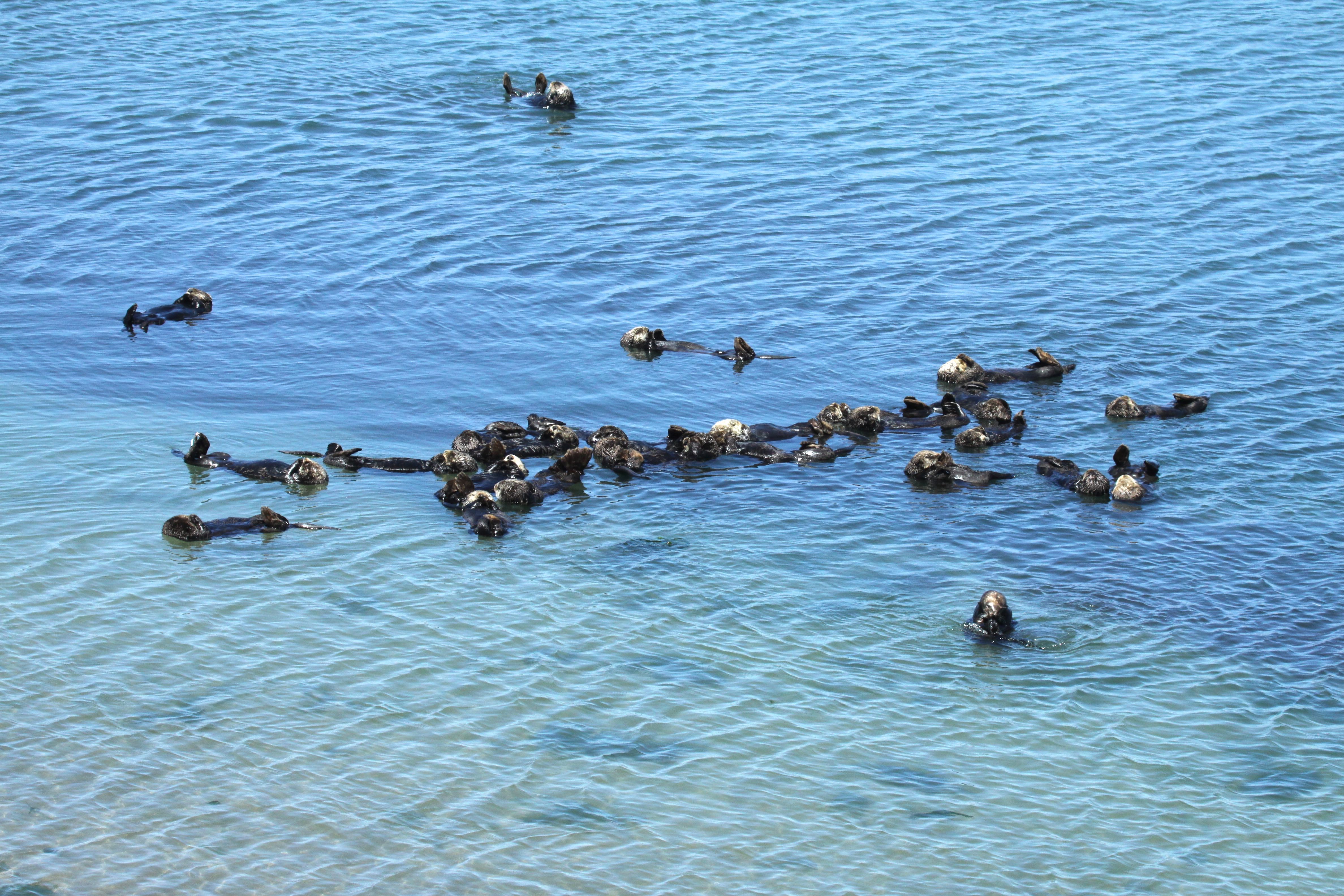 Lilian Carswell/USFWS
Check out these Live Sea Otter Cameras all year!
Sea Otter Awareness Week is organized and sponsored by Defenders of Wildlife, Sea Otter Savvy, California Department of Parks and Recreation and the Monterey Bay Aquarium.
Image