For the better part of the past three centuries, California's sea otters have struggled for survival. Fur traders of the 18th and 19th centuries killed all but a few dozen of these animals, and contemporary threats like resource and habitat depletion and toxic runoff have impeded the recovery of the species.  
Sea otters in California managed to recolonize regions of the central coast during the 20th century, but their population has not increased in a decade, and their range has not expanded north or south in more than twenty years. They remain absent from their historical habitat in Baja, Southern California, Northern California, all of Oregon, and southern Washington and continue to suffer the effects of environmental degradation and the introduction of infectious diseases and other pollutants from the land.
Fortunately, California taxpayers can help sea otters rebound by donating to the California Sea Otter Voluntary Tax Contribution Fund when preparing their state tax returns this tax season. Since 2007, the California resident income tax return has included a line for the California Sea Otter Voluntary Tax Contribution Fund. Over the past 15 years, California taxpayers have contributed more than $4 million in tax-deductible donations to the Fund to support vital sea otter research and conservation projects in California. These funds have, in turn, prompted matching grants from other agencies and NGOs.  
Sea otters are critical to the health and prosperity of coastal communities. As keystone predators, they confer extraordinary ecological benefits by boosting the biodiversity and sustainability of coastal ecosystems. As an example, without sea otters to keep purple sea urchins in check, the urchins can overpopulate nearshore habitats and decimate the kelp forests that support numerous other species and protect against coastal erosion. When a charismatic animal like the sea otter fails to flourish, we have both a moral obligation to conserve them and a vested interest in coexisting with them.
California is a leader in developing forward-looking conservation programs that complement federal protection laws for imperiled species like the sea otter. The Fund assures that sea otter programs under the California Department of Fish and Wildlife will persist, and it supports a competitive grants program through the State Coastal Conservancy. Without the Fund, these programs would languish or disappear, consigning sea otters to an uncertain future.
Californians don't need to wait until World Otter Day at the end of May to honor these smallest of all marine mammals. Donations to the California Sea Otter Voluntary Tax Contribution Fund will ensure that California's sea otter conservation and coexistence efforts remain on track, coastal habitats retain their fine ecological balance, and this threatened species moves ever closer to recovery.
For more information, click here.
Author(s)
Image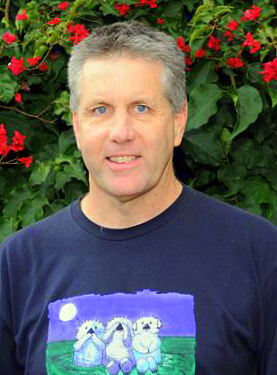 As California Representative, Andy's work focuses on sea otter issues in California, Oregon, Washington, British Columbia and Alaska, and he covers threats to California's coastal ecosystems and wildlife, such as plastics and other ocean pollution, fisheries, energy development, human disturbance and climate change.
Image