Microbeads, Macro Problem
There's something about the promise of a deep cleansing that Shivani Kharod can't resist. Her bathroom cabinet once housed a collection of enticingly scented products designed to deliver that squeaky clean feeling, concoctions like foaming passion fruit facial exfoliant and warm vanilla sugar body scrub. Then she started studying biology in college and became more aware of how products we routinely use can adversely affect our environment.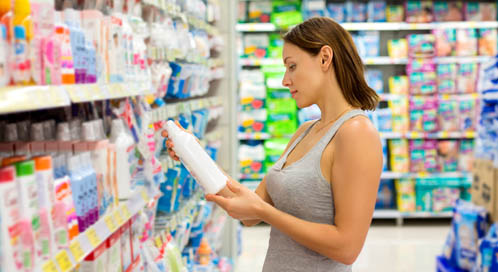 Kharod discovered that her face wash, body scrub and even her toothpaste contained "microbeads," tiny plastic pieces that eventually end up in our oceans. In fact, a tube of face wash can contain more than 330,000 beads. 
Smaller than 5 millimeters, microbeads wash down the drain, slip through most wastewater treatment systems and eventually end up in the sea where fish, mussels, crabs and more mistake them for fish eggs and eat them. 
Not only do the beads interfere with digestion and deprive wildlife of necessary nutrients, they can also carry known carcinogens, like PCBs, DDT, flame retardants and other industrial chemicals. These persistent organic pollutants are hydrophobic, meaning that they repel water and stick to the beads, says Kirk Havens, a Virginia Institute of Marine Science researcher. These toxic pollutants also collect in animal tissues. This means that animals higher on the food chain face greater health risks because they eat and store more pollutants. 
Some states are starting to try to ban the use of nonbiodegradable microbeads, found in many popular brands, including Aveeno, Clean and Clear and Crest. 
In June, Illinois passed the first law addressing the issue. However, a loophole allows for the use of another type of plastic, known as PLA. "The industry is calling this biodegradable plastic, but PLA has proved difficult to degrade even in the most advantageous circumstances," says Anna Cummins of the 5 Gyres Institute, which worked to introduce legislation to ban the beads in California, Minnesota and New York. "If the Illinois bill becomes the standard across the country, we will all lose."
Meanwhile, some companies are getting the message: Unilever, Proctor & Gamble, Johnson & Johnson and others have agreed to stop using microbeads by 2017. They're looking to biodegradable alternatives such as cocoa beans, apricot shells, ground nut shells and salt crystals.
Scientists are also developing alternatives such as PHA, a naturally occurring, biodegradable polymer produced by bacteria. "It already is present in aquatic systems and is used by bacteria to store energy," Havens says. "It also has similar physical characteristics to nondegradable plastic, making it a good substitute."
As for Kharod, she's long since purged her bathroom of offending products and now selects her toiletries and cosmetic products carefully. "We do things to harm the environment on the daily," she says. "Things like face washing doesn't have to be one of them."
–Dana Koblinsky
GET UP STAND UP 
Don't purchase products containing these small but harmful plastic balls. Check the label. If the ingredients include polyethylene, polypropylene or polysystrene, then microbeads are present.
Only select articles from Defenders are available online. To receive 4 issues annually of the full award-winning magazine, become a member of Defenders of Wildlife!
More Articles From This Issue
With engaging stories and spectacular photography, Defenders of Wildlife's magazine provides readers with a behind-the-scenes look at what biologists and conservationists are doing to protect imperiled wild animals and plants.
Get the Magazine
Image