OUTFRONT: A Defenders Roundup
New Hope for Hammerheads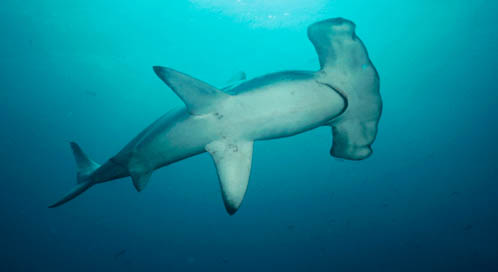 In a first for sharks, four key populations of scalloped hammerheads recently received federal protection under the Endangered Species Act. Targeted across the world for their fins for use in soup, hammerheads are also killed as accidental "bycatch" in fisheries targeting other species.
"Defenders looks forward to working with the National Marine Fisheries Service on implementing habitat protections for these sharks within U.S. waters to give these animals a fair shot at recovery," says Jay Tutchton, Defenders' senior staff attorney.
From Doves to Condors
Defenders petitioned the Interior Department in June to require the use of nonlead ammunition on the more than 160 million acres of national park and wildlife refuge lands. 
Each year, an estimated 10 million to 20 million birds and other animals die from lead poisoning after ingesting lead shot or fragments or by feeding on lead-contaminated prey. "The use of lead ammunition is unacceptable in this day and age, when there are readily available alternatives on the market and we know the incredible harm that lead poses to people and to wildlife," says Jamie Rappaport Clark, Defenders' president. 
Wolverine Woes
The U.S. Fish and Wildlife Service jeopardized the fate of the 250 to 300 wolverines in the Lower 48 when it denied the species Endangered Species Act protections in August. 
Protection would have provided much-needed federal resources and banned trapping, particularly important in Montana where a trapping season may reopen. Defenders is pushing to also reestablish wolverines in the Southern Rockies and the Sierra Nevada, places with ample, suitable habitat and sufficient snowpack.
More Articles from Fall 2014
You may also be interested in:
Nearly as long as a bus and weighing almost 2.5 tons, no fish is more fearsome or famous than the great white shark.
Maligned as killing machines, sharks are an essential part of healthy oceans. Millions of sharks are killed every year to fill soup bowls.
The drive to produce biofuels adds to the pressures on vulnerable prairie chickens
GET INSTANT ALERTS & UPDATES
Get Instant Alerts & Updates
Enter email address
Enter mobile number
Latest Updates
November 2, 2017 | 3.00 PM
November 2, 2017 | 3.00 PM