The Florida manatee, Florida's state marine mammal, is a large aquatic relative of the elephant.
Manatees are grayish brown in color and have thick, wrinkled skin on which there is often a growth of algae. Their front flippers help them steer, or sometimes crawl, through shallow water. They also have powerful, flat tails that help propel them through the water.
Like other grazing animals, Florida manatees play an important role in influencing plant growth in the shallow rivers, bays, estuaries, canals and coastal waters they call home. Historically, manatees in Florida relied on natural springs to stay warm during cold weather.
Florida has the largest concentration of natural artesian springs in the world; unfortunately, many springs have been altered, degraded and even lost completely due to groundwater pumping for urban and agricultural development, drowned under reservoirs, or blocked by dams. At the same time, we've built electric power plants and other structures that produce artificial sources of warm water, and many manatees (over 60% of the population) have learned to rely on these outflows to provide warm water habitat. Whether natural or man-made, manatees depend on warm waters to spend the coldest days of winter. 
You can be a part of the solution for endangered species: support our efforts to protect the wild!
Florida's manatees and other marine wildlife are in a crisis, but you can help save them!
Please Help
Defenders' Impact
In the late 1990s, Defenders was a lead plaintiff in federal lawsuits against the U.S. Fish & Wildlife Service and the Florida Fish & Wildlife Conservation Commission claiming inadequate protections for Florida manatees. The outcome was a landmark settlement in 2000 that resulted in many additional protections for manatees. 
Defenders advocates for protecting and restoring natural springs and conserving other important marine and freshwater habitat for manatees. Defenders continues to advocate for manatee protection speed zones to reduce manatees' chances of being hit by speeding boats and provides outreach and education about coexisting with manatees.
We continue to focus on improving protections for manatee habitats, such as in Crystal River National Wildlife Refuge and other areas within Kings Bay. We are working with government agencies, power companies and other organizations to identify and conserve regional warm water networks to help transition manatees away from depending on artificial sources of warm water.
One key project is Defenders' advocacy and education work to restore the Great Florida Riverway, a 217-mile system of three rivers and 50 springs that flows north from central Florida to the Atlantic Ocean via the St. Johns, Ocklawaha and Silver rivers. Restoring the natural flow of the dammed Ocklawaha River will open up essential warm water habitat for many hundreds of manatees. 
You can be a part of the solution for endangered species: support our efforts to protect the wild!
Threats
Manatees continue to face many threats, including:
collisions with boats
habitat loss and degradation
fishing gear entanglement
human harassment
exposure to red tide and other harmful algal blooms
climate change.
the loss of warm water habitat, the greatest long-term threat
Habitat loss, cold stress and starvation caused by pollution-fueled loss of sea grasses (a major food source) have culminated in a large-scale, ongoing manatee die-off in 2021. With over 700 animals lost as of April 30, 2021, this is a crisis for manatees that the National Oceanic and Atmospheric Administration (NOAA) declared an Unusual Mortality Event (UME) along Florida's Atlantic coast from the Indian River Lagoon to the Keys. Surpassing 2013, which saw 830 manatee deaths in total, 2021 is on track to be the deadliest year on record for manatees. Defenders is urging leaders to address the root causes of this UME: manatee habitat loss and systemic mismanagement of Florida's land and water.
Protection Status
| | | |
| --- | --- | --- |
| Endangered Species Act | IUCN Red List | CITES |
| | | |
What You Can Do
Support programs for land and water acquisition and restoration. Manatees are sensitive to human harassment and may leave their vitally important warm-water areas as a result. Obey viewing guidelines and never feed, water or harass manatees by interacting with or touching them. Obey boating speed limits and no-wake zones and watch out for manatees while boating. Report manatee deaths, injuries, harassment, accidents or orphaned manatees to the Florida Fish and Wildlife Conservation Commission's Wildlife Alert number: 1-888-404-3922.
Facts
Trichechus manatus latirostris
10 -12 feet long and 1,500 – 1,800 pounds
50 -60 years
Range/Habitat
Manatees are found in the warm waters of shallow rivers, bays, estuaries and coastal waters. Manatees cannot tolerate waters below 68° F for extended periods, since cold water can stun and even kill them. Manatees take up residence primarily in Florida's coastal waters during winter. They disperse in summer, with more and more manatees spending time in other southeastern states; some individuals have migrated as far north as Massachusetts and as far west as Texas in summer.
Population
Today's population estimate is around 8,800 animals. 
Reproduction
Calves are born weighing between 60 and 70 pounds and measuring about 3-4 feet long. They nurse underwater.
Mating season: no specific period
Gestation: about 1 year
Number of offspring: 1 calf
Diet
Manatees are herbivores; their diet consists mostly of sea grasses and freshwater vegetation.
News
Image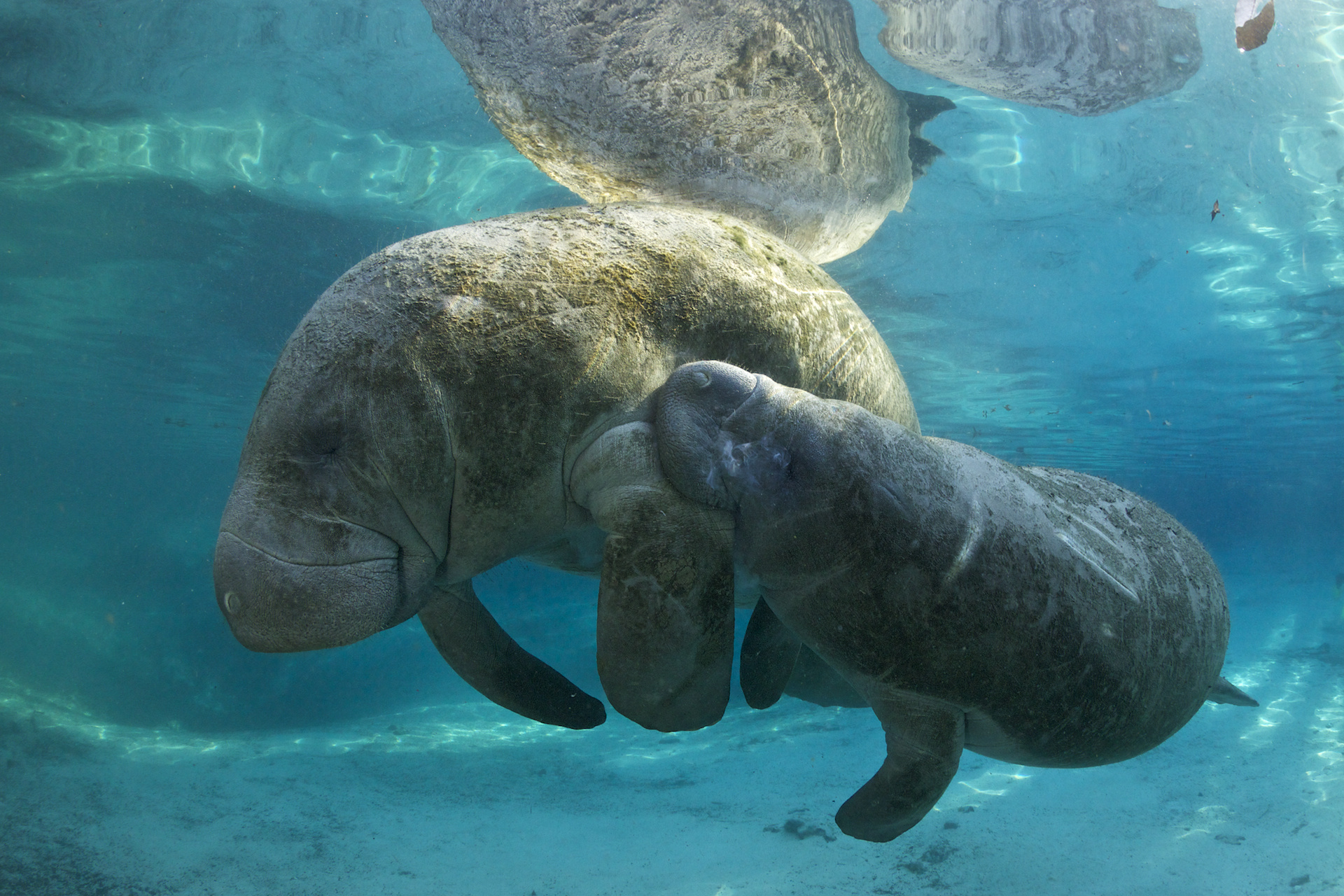 In a legal agreement with the Center for Biological Diversity, Defenders of Wildlife and Save the Manatee Club, the U.S. Fish and Wildlife Service has committed to revise critical habitat for the Florida manatee by September 2024.
Florida Manatee Blog Posts
Image
Read More About the Florida Manatee
Image