Wolf Reality Check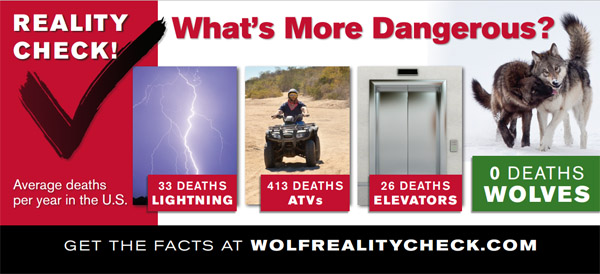 You're more likely to be killed by lightning, ATVs or even elevators than killed by a wolf.
Think that's a joke? 
Beyond all the hyped up hysteria about wolves, the truth is that an average of 33 people are killed by lightning in the U.S. every year.1 An average of 413 people die per year in the U.S from ATVs2  and there are another 26 fatalities3 on average caused by elevators in the U.S. each year.
The average number of people killed by wolves per year in the Lower-48?? Zero.  In the 21st century, only two known deaths have been attributed to wild wolves in all of North America.4
So ignore extremists trying to scare you about the threats posed by wolves. It's nonsense. Their claims are based on fairytales, not reality. 
The truth is that those in Washington have always valued our natural heritage. Now, a key missing part of that heritage is coming back: the gray wolf. Seventy one percent of Washingtonians want to see wolves restored.5
Washington can live with wolves again just as it does with all of its other wildlife. And people of Washington can use reasonable means to resolve conflicts instead of ineffective wolf-killing programs.6
Get the facts: 
Washington Residents: Take Action
Additional Information: 
---
[1] 10 year average. Data collected 1940-2013.  Weather Fatalities. (2013). Office of Climate, Water, and Weather Services, National Weather Service.
[2] Average deaths in the U.S. from 1997-2003. Deaths and Injuries Involving Elevators and Escalators - A Report of the Center To Protect Workers' Rights. (2006). Center for Construction Research and Training. Electronic Library of Construction Occupational Safety & Health.
[3] Average deaths in the U.S. from 1982 – 2012. Topping, J., Garland, S. (2014). 2012 Annual Report of ATV-Related Deaths and Injuries. U.S. Consumer Product Safety Commission
[4] McNay, M. E. (2007) A Review of Evidence and Findings Related to the Death of Kenton Carnegie on 8 November 2005 Near Points North, Saskatchewan. Alaska Department of Fish and Game.
[5] Tulchin, B., Krompak, B. (2013). New Poll Finds Strong Support for Wolf Protection in Western States. Tulchin Research.
[6] Wielgus, R., Peebles, K. (2014) Effects of Wolf Mortality on Livestock Depredations. PloS ONE. DOI: 10.1371/journal.pone.0113505
You may also be interested in:
During Wolf Awareness Week, we celebrate the vital role wolves play in the ecosystem, combat the misinformation that so often surrounds them, and share what you can do to help wolves survive.
October-December, 2013 - The U.S. Fish & Wildlife Service held several public hearings on their proposal to delist most gray wolves in the U.S. And at each one, Defenders was there in force.
Nearly a quarter century ago, L. David Mech made a pair of bold predictions about the challenges still awaiting wolves in the American West.
GET INSTANT ALERTS & UPDATES
Get Instant Alerts & Updates
Enter email address
Enter mobile number
Latest Updates
October 1, 2013 | 4.13 PM