Raise a Glass to Wildlife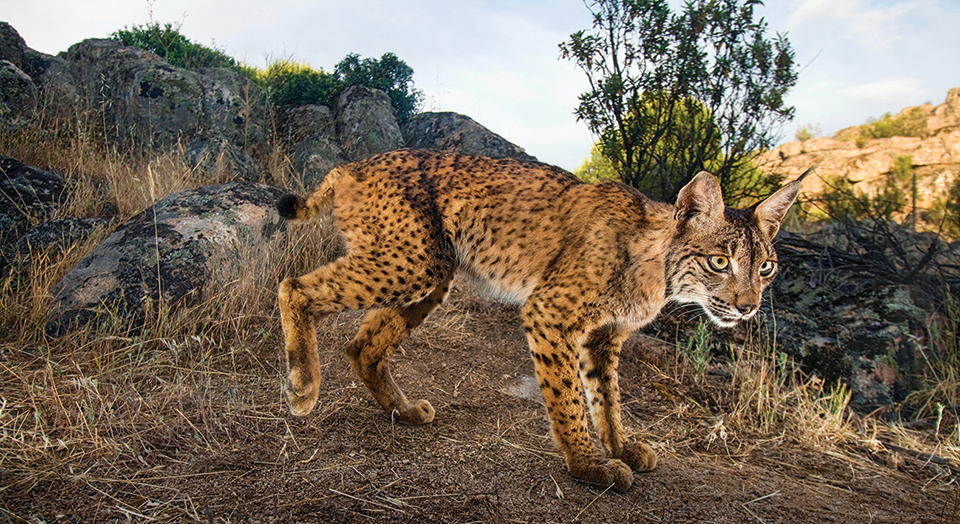 The holiday season is just around the corner and merrymaking often involves popping the cork on a nice bottle of wine. But the recent trend of replacing natural cork bottle stoppers with synthetic ones is threatening Mediterranean cork forests, and that is nothing to celebrate. If demand for natural, sustainable cork drops because of increased use of plastic or aluminum stoppers, these biologically diverse woodlands could be replaced with mono crops—like hardwoods for lumber—or cleared to make way for cattle farms or shopping malls.
Cork forests contain some of the highest levels of plant diversity in the world, third after the Amazon and Indonesian rainforests. They also provide refuge for endangered species, including Barbary apes, Barbary deer, Iberian lynxes—the world's most endangered feline with fewer than 100 remaining—and Iberian imperial eagles, with only 150 breeding pairs. Cork forests are also a migratory end point where some 60,000 Eurasian cranes stock up on cork acorns as they enter breeding season. 
Cork trees—evergreen members of the oak family also referred to as cork oaks—anchor the soil and regulate water with their roots, defending against desertification in the Mediterranean. Every year they effectively capture some 20 million tons of carbon dioxide (CO2), one of the major greenhouse gases causing climate change. Because CO2 is stored in cork bark as it regrows, these trees can absorb three to five times more CO2 than trees that are not stripped. Throughout the trees' 200- to 300-year lifetime, hand harvesters sustainably remove the bark every nine years—up to 16 times without damage to the tree. "Cork oak trees are one of the world's most eco-friendly natural resources," says Patrick Spencer, executive director of the Cork Forest Conservation Alliance. 
According to a PwC (formerly known as PricewaterhouseCoopers) analysis of the life cycle of cork, aluminum and plastic wine closures, the carbon offset attributed to natural corks is equivalent to the annual savings from 17 solar panels per 1,000 cases of wine. And production of synthetic corks generates 10 times more CO2 compared to natural cork, while aluminum screw tops produce up to 24 times more CO2 per cap than cork. 
Further, plastic stoppers are not biodegradable and are not being recycled anywhere in the United States. Metal screw caps are difficult to recycle because they are so small that municipal sorting facilities usually miss them.
Consumer demand for cork products—flooring, footwear and especially wine stoppers—has long helped preserve ecologically important cork forests. Cork oaks also yield enormous economic benefits to local economies, with the industry supporting tens of thousands of jobs. "The more cork that is used, the greater the incentive for locals to want to maintain and plant more cork oaks," says Spencer. "Every time you buy a bottle of wine sealed with a natural cork stopper, you're helping to protect an extraordinary ecosystem."
This simple act can make a big difference for wildlife a world away. Who wouldn't want to drink to that. Cheers! 
—Heidi Ridgley
Popped a cork, now what?
A cork may seem like such a small thing to toss in the trash. But with an estimated 13 billion traditional wine corks sold around the world each year, it all adds up. And it is so easy to recycle there is no reason to throw it away. Many Whole Foods have cork recycling boxes. You can also visit corkforest.org/find-a-dropbox/ to find another option in your area.
Photo caption: Cork forests capture some 20 million tons of carbon dioxide each year. High in plant diversity, these forests are also home to the Iberian lynx, the world's most endangered cat.
Only select articles from Defenders are available online. To receive 4 issues annually of the full award-winning magazine, become a member of Defenders of Wildlife!
More Articles From This Issue
With engaging stories and spectacular photography, Defenders of Wildlife's magazine provides readers with a behind-the-scenes look at what biologists and conservationists are doing to protect imperiled wild animals and plants.
Get the Magazine