Farm Bill funding crucial to conservation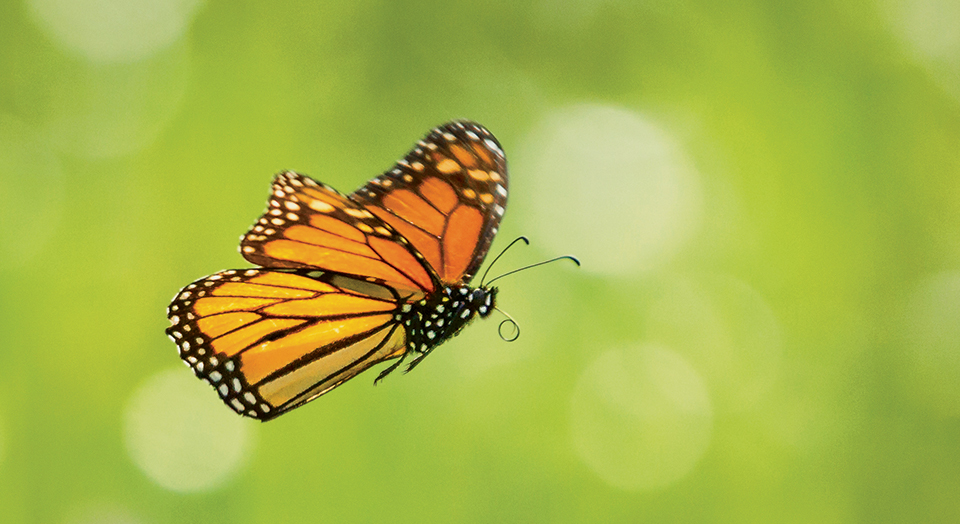 Hidden behind the big budget numbers and Capitol Hill policy debates over reauthorization of the Farm Bill—the largest single source of federal funding for wildlife conservation on private lands—are the species that Farm Bill programs help to conserve.
Take monarchs. The orange-and-black butterflies known for their annual, multi-generational migration from Mexico depend on milkweed to lay their eggs and support their young. But monarch numbers have decreased significantly over the past two decades, and the U.S. Fish and Wildlife Service is assessing whether the butterfly needs protection under the Endangered Species Act (ESA).
In the past, Mexican deforestation caused much of the decline. Today that winter habitat is better protected and focus has shifted to the loss of native milkweed in the butterfly's northern range from agriculture and development. Monarch caterpillars feed only on milkweed, and when it declined by 58 percent in the Great Plains states in the 2000s, monarch populations dropped by 81 percent. Milkweed also provides food for other vital pollinators and habitat for additional beneficial insects.
That's why Farm Bill programs like the Environmental Quality Incentives Program, the Conservation Stewardship Program and Working Lands for Wildlife assist farmers with planting milkweed, removing invasive grassland species and planting native species to stabilize soil, reduce erosion and improve water quality. These initiatives help landowners manage for monarch habitat while keeping working lands working and strengthening rural economies.
The Farm Bill also pays farmers to enroll land in the Conservation Reserve Program, which removes areas from agricultural production for 10 years. Enrolled lands may be used to establish beneficial plant species, such as meadows of native wildflowers that support monarchs.
"The Farm Bill is a prime opportunity to conserve wildlife that depends on private land," says Jamie Rappaport Clark, Defenders' president and CEO. "Unfortunately, the legislation offered by the House of Representatives has been hijacked by anti-environmental members of Congress, who have forced dangerous and unnecessary provisions into the bill that threaten imperiled wildlife, water quality and national forests nationwide."
Among the worst of these provisions, is one that exempts the Environmental Protection Agency from consulting with the Fish and Wildlife Service on the effects of pesticide contamination under the ESA—even though in 2015 two additional butterfly species were added to the endangered species list due, in part, to pesticides. The House's legislation also cuts funding to Farm Bill conservation programs and would eliminate the Conservation Stewardship Program, the largest conservation program by acreage.
Defenders is working to ensure that Congress passes a Farm Bill that maintains conservation funding and programs for landowners, prioritizes at-risk species and preserves existing environmental laws.
"An astounding array of flora and fauna benefit from this essential legislation, from hellbenders and gopher tortoises to sage-grouse and hundreds of migratory bird species," says Mark Salvo, Defenders' vice president of landscape conservation. "Defenders will continue to engage at every stage of the legislative process to pass a Farm Bill that works for both people and wildlife, including monarch butterflies."
Congress reauthorizes the Farm Bill about every five years. The current 2014 Farm Bill will expire September 30.
Why the Farm Bill Matters
Two-thirds of the land in the Lower 48 is privately owned and more than 

40 percent of that is managed for agriculture. Approximately half of federally listed species have at least 80 percent of their habitat on private lands.

Farm Bill conservation programs protect water quality and quantity, prevent soil erosion, preserve and restore grasslands, wetlands and woodlands, clean the air and enhance wildlife habitat on private lands.

Farm Bill conservation programs currently apply to more than 40 million acres of habitat in the United States.
Learn more about Defenders' work to conserve habitat on private lands at www.defenders.org/defending-habitat/private-lands.
Only select articles from Defenders are available online. To receive 4 issues annually of the full award-winning magazine, become a member of Defenders of Wildlife!
With engaging stories and spectacular photography, Defenders of Wildlife's magazine provides readers with a behind-the-scenes look at what biologists and conservationists are doing to protect imperiled wild animals and plants.
Get the Magazine