The grizzly's recovery is remarkable, but there's still work to be done
By Todd Wilkinson
Not long ago, nature photographer Tom Mangelsen and I stood along a roadside in Grand Teton National Park in Wyoming with a crowd of onlookers mesmerized by a grizzly that suddenly rose up on hind legs. Sniffing for danger, she dismissed us and went back to digging for biscuitroot and pocket gophers with her long claws.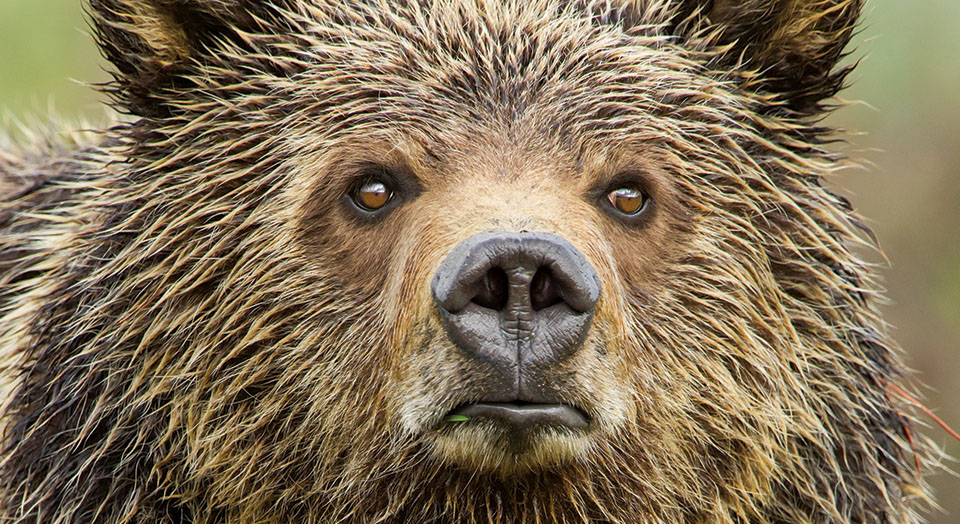 No anonymous member of Ursus arctos horribilis, this bruin is the most widely known bear on the planet. Called 399, she inhabits Jackson Hole, a valley where grizzlies disappeared half a century ago. Back then, many believed the species would never again find a home in the greater Yellowstone ecosystem. Instead, 399 has today become an enduring symbol of one of the greatest wildlife conservation success stories in history.
"I've lived in Jackson Hole since the 1970s and over most of that stretch had to travel northward to Yellowstone if I wanted to see grizzlies," Mangelsen says. "Even there, they were rare."
Today, thanks to a deliberate decision to make space for the them, grizzly bears are showing up in places where they've been absent for a century.
Ted Turner, founder of CNN and owner of several large bison ranches west of Bozeman, Mont., has put out an informal welcome mat on his lands to recolonizing grizzlies, as he has done for wolves. "Bringing back the wolf to Yellowstone National Park 20 years ago was a momentous, unprecedented feat that many said could never be done in our lifetime," Turner says. "But truthfully, saving the Yellowstone grizzly has been a challenge even more remarkable. I've heard it described as nothing short of a modern miracle."
An estimated 50,000 grizzlies once inhabited the Lower 48. By the 1950s, they had been extirpated from 98 percent of their historical range south of Canada and persisted in just a few small, fragmented and remote locations, primarily Yellowstone and Glacier national parks.
Fewer than 200 individuals were known to exist in greater Yellowstone in the early 1980s, and they were dying annually at a rate that surpassed births. But today, aided by the Endangered Species Act (ESA), there are between 700 and 1,000. In the northern Continental Divide ecosystem—encompassing Glacier National Park along the U.S.-Canada border—900 to 1,000 bears now roam. Farther west in the Cabinet-Yaak Mountains in northwest Montana and the upper panhandle of Idaho there are 40 to 55 bears, and the Selkirk Mountains of Idaho and northeastern Washington hold around 80. 
In total, the grizzly count may exceed 2,000, triple the number that existed when bears were first protected. "Back in 1981 and 1982, I never thought we would have the numbers and distribution of bears we have today," says Christopher Servheen, U.S. Fish and Wildlife Service's (FWS) national grizzly bear recovery coordinator.
As one of the early leaders in grizzly conservation, Defenders of Wildlife was a catalyst for getting the grizzly ESA protection in 1975, when the landmark law was just two years old.
Prior to gaining ESA protection, resource extraction had run rampant for more than 100 years. Road construction for logging and mining pierced remote backcountry bear habitat, displacing grizzlies and providing poachers with easy access. Ranchers killed bears in great numbers with strychnine poison and bullets to make the land safer for cattle and sheep, and unregulated trophy hunting took many more bears.
The ESA helped to address all these issues, and habitat protection, better trash-storage techniques and aggressive efforts to reduce conflicts between bears and people have paid huge dividends, says Erin Edge, Defenders' Rockies and Plains representative in Missoula, Mont. "There's been an awful lot of good work done and we need to celebrate what's been accomplished," she says. "But there is still a lot of work ahead of us to continue reducing bear and human conflicts which often result in bears being killed."
With the rebound, FWS is soon expected to announce its intention to remove the greater Yellowstone population from ESA protection—known as "delisting"—and transfer management authority to Idaho, Montana and Wyoming. But many conservationists say their support or opposition to delisting depends on whether there will be enforceable state regulations that adequately protect the bears and their habitat.
Also at issue is climate change and how it may affect grizzly habitat and key foods. As generalists, grizzlies eat a diverse range of foods. But some primary Yellowstone grizzly bear foods—including whitebark pine seeds, Yellowstone cutthroat trout and army cutworm moths—are in jeopardy.
Today, whitebark pine is beset by disease and insect infestation exacerbated by warming temperatures, and it is almost functionally extinct in the wild. Yellowstone cutthroat trout in Yellowstone Lake, where dozens of grizzlies used to converge to feast on spawning fish, have been decimated by invasive lake trout. Meanwhile, the future for the moths, which migrate to the mountains from agricultural fields hundreds of miles away, is less than certain because they are treated as menaces and subject to pesticide spraying. In addition, the moths' high elevation tundra habitat is likely to vanish with climate change.
The abundance of foods can make all the difference in whether sows get pregnant, if the pregnancy will be successful, how many cubs will be carried, the likelihood of coming in harm's way with people and whether mama and offspring will be healthy, says Dave Mattson, a retired U.S. Geological Service wildlife biologist.
"That said, grizzlies are amazingly adaptable," says Jonathan Proctor, Defenders' director of the Rockies and Plains program. "Declines in some key Yellowstone food sources are real, but if we are willing to share public lands beyond Yellowstone with grizzlies and secure attractants on private lands that draw bears into conflict with people, the Yellowstone grizzly population can continue its remarkable recovery."
Long-term viability for grizzlies also hinges on connecting bear populations, says Edge. Bear populations that exist as biological islands, cut off from one another by long distances are not as able to withstand changes that may occur. "Bears need to continue to expand and occupy areas between ecosystems so that they are fully connected in the future," says Edge. This enhances genetic diversity and leaves individual populations less vulnerable to inbreeding, for example. Access to larger landscapes also makes wildlife more resilient to the impacts on habitat from climate change.
But as the growing bear population pushes dispersing animals to the outer areas of the ecosystem, data show the bears increasingly coming into conflict with humans and livestock. 
Wyoming, which contains the largest percentage of grizzly range in greater Yellowstone, has spent $1.6 million since 2003 reimbursing ranchers, mostly cattle operations, for animals killed by bears. Defenders similarly pays compensation for livestock killed by grizzlies in states without compensation programs, and has spent $400,000 in Montana and Idaho since beginning the program in 1997. Montana took over grizzly compensation in 2013.
Over the years, Defenders has also worked with other conservation organizations to buy and retire ranchers' public land grazing permits in prime bear habitat, especially for sheep grazing, which is particularly incompatible with grizzlies. It has led to a dramatic reduction in livestock and bear conflicts and the all-too-often lethal removal of bears.
"We've come to recognize there are two major factors in ensuring safe passage for apex predators like grizzlies and wolves," says Jamie Rappaport Clark, Defenders' president. "One is rapid response to address conflict. The second is increasing social tolerance of bears present on the landscape. These can only happen by public education, building trust and engaging in commonsense solutions to reduce bear and human conflicts. These are absolutely essential to guaranteeing the grizzly's long-term survival."
Idaho, Montana and Wyoming all have wildlife experts on the frontlines working to prevent conflicts between humans and bears. "Public education is a potent tool in keeping bears alive and it takes many forms," says Defenders' Edge, who travels among communities to share lessons about human and grizzly coexistence with schools and civic organizations. They include providing information for people raising chickens and honey bees about the need to install electric fencing, encouraging recreationists to keep camps clean and food out of reach of bears, touting the benefits of carrying bear spray and assisting ranchers in deploying guard dogs, range riders and other nonlethal methods of protecting livestock.
This is especially important as people increasingly move to the West. In 2030, demographers say, more than 830,000 full-time residents will live in the 20 counties of greater Yellowstone, twice as many as were there in 1990.
"People are moving here in numbers I couldn't have imagined when I started my work as a biologist," says Jamie Jonkel with Montana Fish, Wildlife and Parks Department. "Montana, Wyoming and Idaho are getting wilder because we've had growing numbers of bears, cougars and wolves. At the same time, humans drawn to that wildness don't understand it demands changing their behavior." But if the last few decades have taught us anything, he adds, "it's that bears and people are adaptable and the more that we understand the biological needs of grizzlies, the better it is for all."
Still, as a cautionary tale, Clark points to the way states have managed wolves following delisting in the Northern Rockies in 2011. Policymakers in Wyoming, for example, classified wolves as "predators," enabling anyone to kill them by any means, at any hour of the day, 365 days a year, for any reason, across 85 percent of the state. Such action, Clark notes, was unprecedented and widely condemned, resulting in a lawsuit to relist wolves.
"Positive results can only continue if states fulfill their end of the bargain by committing to species recovery when grizzlies are finally declared recovered and they assume primary management authority," she says. "The biggest question is whether Wyoming will treat grizzlies with as much hostility as they have treated wolves. This state has a questionable track record and there is great fear that bears will be regarded as expendable. With a creature as charismatic, controversial and slow-to-reproduce as the grizzly bear, we need to be very careful should species oversight and management be passed from the feds to the states. The loss of only a few female bears each year can mean the difference between a stable or declining population." Typically, it takes a female grizzly 10 years to have a female cub that survives to give birth.
In Jackson Hole, the story of grizzly 399 underscores the never-ending challenge of keeping bear populations healthy. This matriarch, who just turned 19, began inhabiting roadside areas in Grand Teton National Park more than a decade ago after her first cub was killed, likely by a large male grizzly. Ever since, 399 has raised several litters of triplet cubs and demonstrated remarkable prowess in navigating human development.
One of her daughters, identified as 610, gave birth to cubs, and the extended clan has attracted a legion of admirers on social media. But there is a sobering truth associated with 399. "As wise and adaptable as she has been, and as noteworthy as she's been in raising young, it's tough being a grizzly," Mangelsen says. At least 14 different bears descend from her, although run-ins with humans wiped out three-quarters of them.
But increasingly, nature-loving Americans are insisting that species like grizzlies, wolves and cougars have a home on the landscape. "Unlike the attitude that prevailed on the frontier when predators were only viewed as liabilities in the lives of westerners, the New West offers the promise that uncommon animals like grizzlies are worth far more alive than dead," says Mangelsen.
Today, a big part of greater Yellowstone's $1 billion tourism industry is based on wildlife watching. In one 2014 study, researchers found that Yellowstone visitors would be willing to pay an added $41 more to the $25 gate fee if they knew they could see a grizzly. Researchers also found that without bears to see, visitor spending in the local economy would decrease by about $10.1 million and result in the loss of 155 jobs.
Clearly, the grizzly is a species that can galvanize our imagination and motivate us as a society to seize hold of a larger vision.
"So often we think of environmental challenges as being large, intractable and unsolvable, and that only breeds apathy, says Mangelsen. "The lesson I've learned in my own backyard is that when we put our collective minds to carrying out conservation, it can work in overcoming what we sometimes perceive to be impossible challenges." 
Todd Wilkinson's latest book, "Grizzlies of Pilgrim Creek—An Intimate Portrait of 399, the Most Famous Bear of Greater Yellowstone," is a collaboration with photographer Tom Mangelsen and features 150 of his images. Visit www.mangelsen.com/grizzly.
Only select articles from Defenders are available online. To receive 4 issues annually of the full award-winning magazine, become a member of Defenders of Wildlife! 
More Articles From This Issue
With engaging stories and spectacular photography, Defenders of Wildlife's digital magazine provides readers with a behind-the-scenes look at what biologists and conservationists are doing to protect imperiled wild animals and plants.
Get the Magazine
Image