Worth Defending
Western Sandpiper
Each spring, during high tide at Alaska's Copper River Delta, thousands of western sandpipers cluster at the edge of the salt grass in mats as tight as the weave of a carpet. These tiny birds—not much larger than sparrows—are members of a group of closely related shorebirds nicknamed "peeps."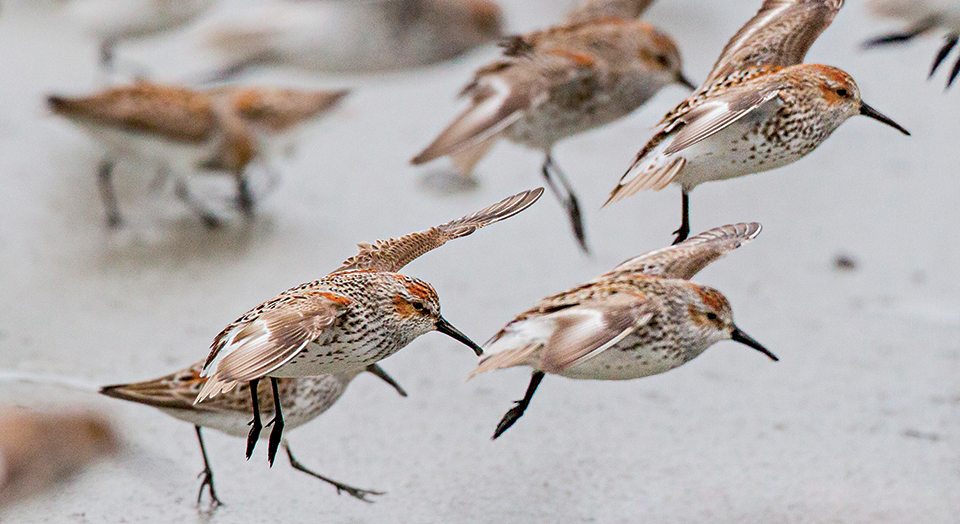 During migration, western sandpipers can fly more than 7,000 miles each way, wintering as far south as Peru. To survive such a long and exhausting journey, they depend on stopover sites like the Copper River Delta to refuel on marine invertebrates and even algae.
Once fed and rested, they move on to their breeding area hundreds of miles northwest on the Yukon-Kuskokwim Delta.
Making a Difference
Defenders of Wildlife is collaborating with other conservation groups and federal agencies as a new land-management plan is drafted for the Chugach National Forest, which contains the Copper River Delta. Defenders is working to ensure that climate and habitat assessments are well designed and provide the best possible future for the delta, the rest of the Chugach and the wildlife they sustain.
Although it's not uncommon to see western sandpipers skittering along beaches and in estuaries of the West Coast in winter, that could change if warmer temperatures cause the Copper River Delta's saltwater marsh to dry up and disappear. The loss of a single one of the Pacific Flyway stopover locations to development or other contamination could also lead to devastation of the species. But with wise policies and a dedicated coalition of birders and conservationists defending their backs, those millions of western sandpipers will continue to fill the air over the delta for centuries to come. –David Shaw
For more, visit www.defenders.org/alaska
Only select articles from Defenders are available online. To receive 4 issues annually of the full award-winning magazine, become a member of Defenders of Wildlife! 
More Articles from Spring 2016
GET INSTANT ALERTS & UPDATES
Get Instant Alerts & Updates
Enter email address
Enter mobile number