With numbers dropping, new recovery plan provides help
Traversing the steel gray waters off the shores of Anchorage, Alaska, Cook Inlet beluga whales are hard to spot—their 15-foot-long white, gray, and sometimes pink bodies blending with the surface shadows and rippling waves.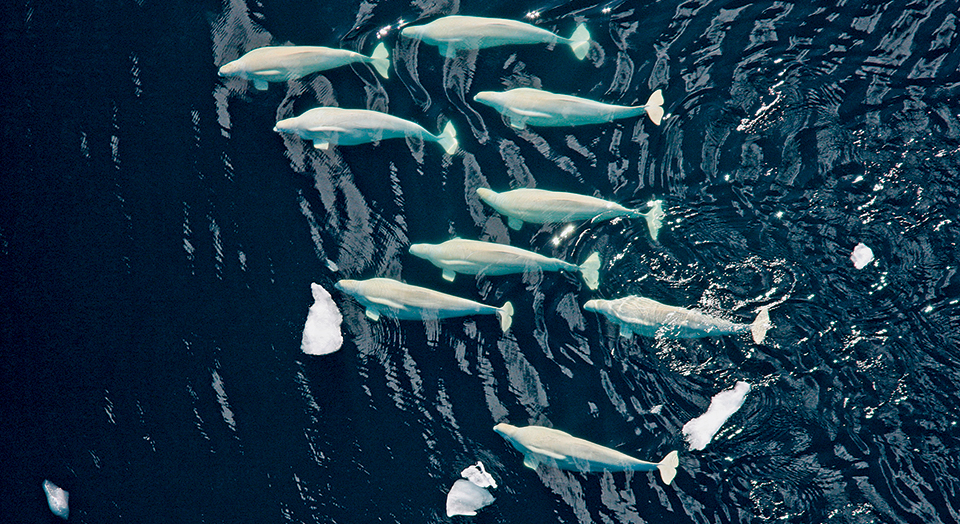 What makes noticing them even harder: their dwindling numbers. A 2014 population survey estimated just 340 individuals compared to an estimated 1,300 in 1979. Conservationists hope that will change now that the National Marine Fisheries Service (NMFS) released its final recovery plan in January. 
But a problem remains. No one knows the reason behind the whale's continued decline. Even after subsistence whaling ended in 1999, numbers continued downward.
In the absence of answers, NMFS will assess 10 potential threats, including ocean noise, loss of habitat, oil spills, illegal killing, reduction in prey and the cumulative effects of multiple stressors.
Defenders has been fighting for these whales for years, working with a coalition of conservation groups, scientists and citizens to get the whale protected under the Endangered Species Act in 2008, focusing efforts to establish critical habitat established in 2011, and serving on the NMFS Cook Inlet beluga whale recovery team from 2010 to 2013 to provide input on the recovery plan. Defenders also helped fund the Anchorage coastal beluga survey, launched in 2008 by Friends of Anchorage Coastal Refuge, to train citizen scientists to collect information on these whales for NMFS.
"Given the uncertainties surrounding these whales, we are pleased that NMFS is emphasizing that the details of recovery efforts can be changed based on new information," says Karla Dutton, Defenders' Alaska program director. "Helping these whales will really depend on those working on the recovery to remain focused on updating and adapting the plan as new scientific findings come to light." 
Timeline
1979: 1,293 Cook Inlet belugas historical abundance estimate
1998: 347 Cook Inlet belugas (NMFS) 
2008: Listed as endangered under the ESA
2010: Defenders began serving on the NMFS Cook Inlet beluga whale recovery team. 
2011: Defenders' advocacy led to the designation of 3,013 square miles of critical habitat 
2014: 340 Cook Inlet belugas (NMFS)
2015: NMFS draft recovery plan released
2017: NMFS final recovery plan released
Only select articles from Defenders are available online. To receive 4 issues annually of the full award-winning magazine, become a member of Defenders of Wildlife! 
More Articles From This Issue
With engaging stories and spectacular photography, Defenders of Wildlife's magazine provides readers with a behind-the-scenes look at what biologists and conservationists are doing to protect imperiled wild animals and plants.
Get the Magazine